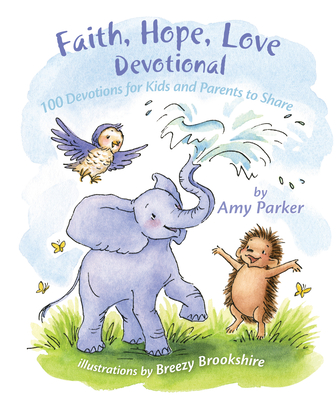 Faith, Hope, Love Devotional (padded) (Hardcover)
100 Devotions for Kids and Parents to Share
B&H Kids, 9781433690303, 224pp.
Publication Date: November 1, 2016
* Individual store prices may vary.
Description
100 days, 100 ways to plant seeds of faith, hope, and love!

First Corinthians 13:13 shines a light on the importance of faith, hope, and love; and bestselling children's author Amy Parker offers 100 devos to grow these concepts early on in your kids' hearts. Based on scriptures, each short devotion explores the biblical principles of faith, hope, or love and encourages children to talk about them, think about them, and put them into action. There's even space for kids to journal as they learn. It's an interactive approach that will solidify these biblical principles in children's hearts and teach them to walk in faith, reach their hopes, and grow big love. 
And don't miss the board books in the Faith, Hope, Love series: How Far Is Faith?, How High Is Hope?, and How Big Is Love? 
About the Author
Amy Parkerha escrito más de veinte libros para niños, adolescentes y adultos, entre los que se incluyen My Christmas List (Mi lista de regalos navideños), el éxito editorial A Night Night Prayer (La oración para dormir) y dos obras ganadoras del premio editorial Christian Retailing's Best. Amy y su esposo tienen dos hijos.

Amy Parker has written more than twenty books for children, teens, and adults including My Christmas List, the best-selling A Night Night Prayer, and two Christian Retailing's Best award winners. Amy and her husband have two children.
Breezy Brookshire grew up in Indiana. Her skills as a young artist are mostly self-taught, drawing characters from her imagination as a young child.  At the age of seventeen, Breezy opened an Etsy shop called The Breezy Tulip Studio where her artwork is sold and was first recognized by author Angie Smith.  Breezy resides in Indiana to this day, sharing a home studio with her sister Emily Rose. Audrey Bunny was Breezy's first illustrated work with B&H Kids, which reached no. 1 on Amazon's Christian Children's Book list in October 2013.