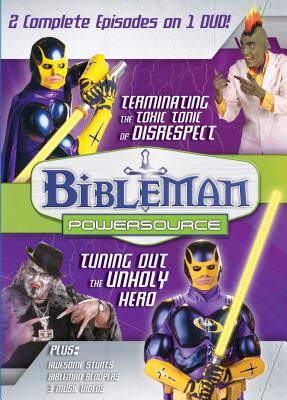 Bibleman PowerSource Vol. 8 (DVD video)
Terminating the Toxic Tonic of Disrespect / Tuning Out the Unholy Hero: Disrespect and Heroes
B&H Kids, 9781433691003, 1pp.
Publication Date: July 1, 2013
* Individual store prices may vary.
Description
Terminating the Toxic Tonic of Disrespect: The new Bibleman, Josh Carpenter, is on duty defending kids from the dastardly dirty deeds of the devil's dupes. Something has gone very wrong with the local little league team. They're dissing each other and their coaches; everybody is miserable. At least they're all enjoying the new M-Pow-R sports drink from Snortinskoff Industries. Bibleman and Cypher are short-handed since Biblegirl returned to Command Central, so the mysterious meltdown of manners continues. Snortinskoff and Stench are finally sent packing when somebody remembers Philippians 2:3.
Tuning Out the Unholy Hero: Another day, another demented villain for Bibleman to eradicate thru the power of God's Word. No sooner is I.M. Wonderful foiled, then along comes . . . 2Kul-4Skul, anchor of a new kids TV network—WBIG, which stands for What's-Bad-Is-Good. 2Kul's passion is foiling the gospel of Jesus Christ. That's not a mission-statement Bibleman is comfortable with. And when Bibleman is uncomfortable, villains tremble. Teaches a lesson in following the right hero, based on John 14:6.
or
Not Currently Available for Direct Purchase