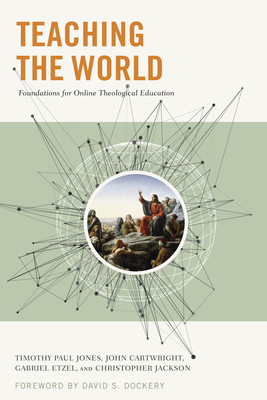 Teaching the World
Foundations for Online Theological Education
Paperback

* Individual store prices may vary.
Description
More and more seminaries, Christian universities, and Bible colleges are opting to train future ministers and missionaries online.
What happens when the movement toward online education is shaped by pragmatic or financial concerns instead of Scripture and theology? Ministry training can be reduced to a mere transfer of information as institutions lose sight of their calling to shape the souls of God-called men and women in preparation for effective ministry.
How might online ministry training look different if biblical and theological foundations were placed first? Teaching the World brings together educators from a wide range of backgrounds and from some of the largest providers of online theological education in the world. Together, they present a revolutionary new approach to online theological education, highly practical and yet thoroughly shaped by Scripture and theology.
Praise For Teaching the World: Foundations for Online Theological Education…
"Well-researched, well-argued, and well-balanced, this composite but unified work forms a valuable contribution not only to the discussion of distance education but also to the general issues of the theory and practice of teaching and learning, including pedagogy and andragogy, into which the strengths and weaknesses of distance learning are properly placed. The authors move from biblical foundations for spiritual formation and insights from Pauls' epistolary form of 'distance ed' to a plethora of practical applications that extend far beyond technology, with a focus on the best strategies, tools, and environments for successful learning, including intentional faculty development, whatever the specific goals and contexts may be. An excellent resource for veteran and neophyte alike!"
 —Andrew H. Bartelt, Gustav and Sophie Butterbach Professor of Exegetical Theology, and vice president for academic affairs (retired), Concordia Seminary

"Grounded firmly in historical perspective, biblical fidelity, and theological conviction, Teaching the World is at the vanguard of online theological education. This book fills a desperate need for institutions and educators venturing into digital learning. Teaching the World faces online education challenges head-on, unflinchingly. It provides guidance and perspective to those fearing that online education is necessarily impersonal, inadequate, or inferior to traditional learning. Teaching the World builds common ground and easy on-ramps for professors struggling to enter the distributive learning fray. These helps, in addition to providing tips for spiritual formation and best practices in online learning, make this book an essential text for professors and administrators alike."
—Freddy Cardoza, executive director, Society of Professors in Christian Education, and director, Christian Education Programs, Talbot School of Theology, Biola University

 "The history of innovation is littered with life-altering advances that outpace society's willingness to consider why before what.  Before scrutinizing the second- and third-order effects of a breakthrough as progressive as online education, many well-meaning pragmatists simply assume we must employ it just because we can.  Seldom has such pragmatism been more risky than banking a generation of ministerial training on the promise of new technology without first viewing it through the prism of old theology.  Teaching the World provides a welcome speed bump to help educators and their customers carefully examine the foundational premises, pros, cons, and best practices of theological education conducted largely online.  Since the products of any such program are pastors who will themselves teach the world, the stakes are too high to proceed without first devouring this long-overdue contribution to the education conversation.  While my views are my own and do not represent the views of the United States Air Force or the Department of Defense, I strongly recommend this volume."
  —Chaplain, Major General Dondi E. Costin
 
 "Teaching the World is a deeply refreshing and much needed discussion on the place of online education in theological institutions. The authors prove that such endeavors have a far stronger pedagogical and theological basis than most critics are willing to admit, and that most advocates have put forth. With theological critics of online education, they challenge the purely pragmatic motives that have tended to dominate seminaries and Christian colleges and universities in recent history. But more importantly, they construct a biblical and theological foundation for theological education that gives appropriate place to online education without undermining or neglecting residential models. This is an extremely valuable resource, and I highly recommend it to administrators, faculty, and even critics of online education!" 
—James K. Dew Jr., vice president for undergraduate studies and distance learning, associate professor of philosophy and the History of Ideas, Southeastern Baptist Theological Seminary

"Online instruction is a challenge for institutions and faculty as well as students. This book grounds online instruction in a biblical-theological context as a means of fulfilling the mission and mandate of the church. It is theological, theoretical, and practically insightful. It would be difficult to identify another book that provides such an integrated and thorough treatment of the subject, all with a connection to Christian thought and applications. It is indeed valuable for anyone involved in online education and teaching."
—James Riley Estep Jr., professor of Christian education, Lincoln Christian University
 
 "Teaching the World is a worthy read for theological educators contemplating the biblical legitimacy, contemporary value, and effective best practices of online theological education. Cartwright, Etzel, Jackson, and Jones challenge us to think not merely of the pragmatic advantages of online education but to examine biblical precedence for its use in accomplishing the vital task of ministerial training. This book furthers the discussion on the integration between theology and educational theory. Highlights of this work include the necessity of spiritual formation online, best practices for online theological education, and leveraging the ministry context of the online learner."
 —Kristen Ferguson, director of online education, Gateway Seminary
 
 "This work is essential reading for anyone interested in the theory and practice of online ministerial education. The authors effectively use the apostle Paul's epistolary practice and contemporary social presence theory to propose theological foundations for online theological education. They offer theologically informed best practices for hiring and development of online faculty and effective use of the online classroom. Most helpfully they focus on the goal of spiritual formation and stress the importance of connecting online learning to students' lived context in their face to face faith communities." 
—John L. Gresham, professor of systematic theology, Kenrick-Glennon Seminary
 
 "Traditional forms of theological education are changing with the rise of distant education, particularly online education.  The primary criticism of online education is the lack of human embodiment for personal and spiritual formation.  Teaching the World provides a historical and biblical framework to consider how online education can be an effective means of ministry formation. It also provides research about how to design and develop online courses for effective learning.  This book is a helpful resource for faculty and administrators as they seek proven and effective online educational practices."
 —Mark A. Maddix, dean, School of Theology & Christian Ministry, and professor of practical theology, Point Loma Nazarene University
  
"Mind-stretching, that's Teaching the World. Assessing the pros and cons of online learning for higher theological education, the authors' balanced approach is a must-read for seminary administrators and faculties. I also commend it to parish pastors. If you'll bridge the book's insights to your congregation, you'll teach more effectively and reach beyond the walls of your Sunday sanctuary. I'll be sharing Teaching the World with many colleagues."
—Dale A. Meyer, president, Concordia Seminary
B&H Academic, 9781433691591, 202pp.
Publication Date: November 1, 2017
About the Author
 Gabriel Etzel
is associate dean, School of Religion, and associate professor of Religion at Liberty University.
Timothy Paul Jones is assistant professor of Leadership and Church Ministry at The Southern Baptist Theological Seminary in Louisville, Kentucky. He is also the author of Misquoting Truth and received the Baker Book House Award for excellence in theological scholarship.