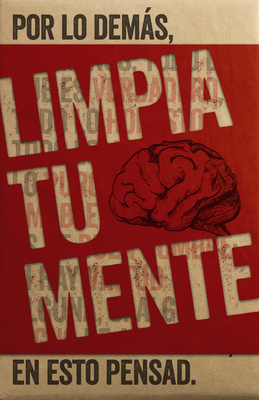 Limpia Tu Mente (Paperback)
B&H Espanol, 9781433691997, 112pp.
Publication Date: July 1, 2016
* Individual store prices may vary.
Description
Un alto porcentaje de hombres lucha con la adiccion a la pornografia y necesitan una renovacion moral y psicologica. Es ese su caso? Si asi fuera, ya sea que usted lo sepa o no, la pornografia ha corrompido su pensamiento, debilitado su conciencia, deformado su percepcion de lo que esta bien y lo que esta mal, y tambien ha retorcido su comprension de la sexualidad y sus expectativas sobre ella. Usted necesita ser renovado por el Dios que creo el sexo. A huge percentage of men struggle with porn addiction, and need a moral and psychological reset. Do you? If so, whether you know it or not, pornography has corrupted your thinking, weakened your conscience, warped your sense of right and wrong, and twisted your understanding and expectations of sexuality. You need a reset by the One who created sex.
About the Author
Tim es seguidor de Jesucristo, esposo de Aileen y padre de tres niños pequeños. Escribe libros y artículos para un blog a modo de pasatiempo, mientras se gana la vida como consultor de Internet. Se congrega y sirve en la Iglesia Grace Fellowship, dirige el sitio web Discerning Reader (El lector perspicaz) y es cofundador de la editorial cristiana Cruciform Press. Entre sus libros se incluye: The Discipline of Spiritual Discernment (La disciplina del discernimiento espiritual), Sexual Detox (Limpia tu mente) y The Next Story (La próxima historia). Tim is a follower of Jesus Christ, a husband to Aileen and a father to three young children. He writes books and blogs for fun while doing web consulting for a living. He worship and serves at Grace Fellowship Church, edits Discerning Reader and is a co-founder of Cruciform Press. His books include: The Discipline of Spiritual Discernment, Sexual Detox, and The Next Story."