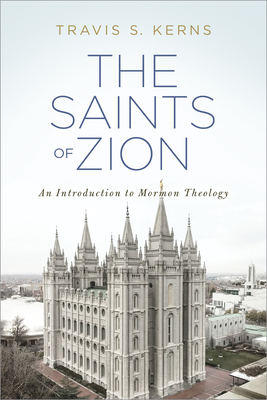 The Saints of Zion
An Introduction to Mormon Theology
Paperback

* Individual store prices may vary.
Description
The Saints of Zion is a fresh look at the history and theology of The Church of Jesus Christ of Latter-day Saints. Although hundreds of books have been published on this topic, The Saints of Zion is an attempt to explain Latter-day Saint history and beliefs from their own perspective. Relying heavily on Latter-day Saint sources for exploration and explanation, the work's purpose is to present Latter-day Saint theology in such a way that Latter-day Saints would see their beliefs represented fairly and accurately. After presenting a short history and exploration of beliefs, the work turns to present an effective evangelistic methodology for reaching Latter-day Saints with the gospel of the New Testament Jesus.
 
Praise For The Saints of Zion: An Introduction to Mormon Theology…
"Many good books have been written on Mormonism, but I've been especially waiting on just one—this one. When I supervised the PhD dissertation of Travis Kerns, I knew he would one day be a world-leading expert on the Latter-day Saints. Now the day has come when I can recommend the first book to read when seeking to understand Mormonism: The Saints ofZion. Scholarly but accessible, truth-revealing but with kindness, this book is a must-read on the subject. The chapter 'Are Mormons Christians?' is worth the price of the book alone."
 
—Ted Cabal, professor of Christian apologetics, The Southern Baptist Theological Seminary
 
"The Saints of Zion is a seamless marriage of biblical truth, precise scholarship, and the 'gentleness and respect' so often cited from 1 Peter 3:16. Kerns is neither demeaning nor insulting as he outlines the origins, implications, and outworkings of Mormon history and doctrine as they compare with God's revelation of himself in the eternal and self-existent person of Jesus Christ, as recorded in his Word, the Bible. Thank you to my friend, Travis Kerns, for showing it is possible to 'be prepared' and to 'make a defense' with 'gentleness and respect,' because to disagree does not require being combative."
 
—Robert E. Marshall, teaching pastor, Risen Life Church, Salt Lake City, Utah
 
"In this fascinating book Travis Kerns introduces us to the theology of the Mormon Church. Citing exhaustive research, Kerns employs the words of Mormon leaders to clearly define their faith. By utilizing this method, he alleviates the threat of an outsider's misunderstanding. And in their own words, the clear distinction between Mormon theology and Biblical Christianity becomes evident." 

—Mike Palmer, pastor, Salmon Valley Baptist Church, Salmon, Idaho, and director, church plant network, Utah Idaho Southern Baptist Convention

"The Saints of Zion is a must-read for those that want to know not only about Mormonism's doctrine, beliefs, history and practices, but also what that means against the true gospel of Jesus. This is a masterful, definitive work on the LDS. For those of us living in cities that have a large LDS community, this is a must-read. I personally will recommend it to every leader I know."

—Monty Patton, Send City missionary, North American Mission Board, Phoenix, Arizona
​
"The Saints of Zion is the go-to book for understanding the distinctive beliefs of the LDS Church. Drawing heavily from Mormon sources, Kerns compassionately, humbly, and carefully delineates where the Church has been and what she believes. Interested in Mormonism? You have come to the right place!"
 
—J. D. Payne, associate professor of Christian ministry, Samford University, Birmingham, Alabama
 
"With a deep examination of LDS theology and history, The Saints of Zion makes abundantly clear that Mormonism is anything but historic Christianity. With this well-written, accessible work, Travis Kerns—a first-rate scholar on Mormonism—has done evangelicals a great service in making clear what the LDS church actually believes. If you want to know the truth about Mormons and Mormonism, The Saints of Zion is the place to start. I cannot commend the book or its author highly enough."
 
—Jeff Robinson, senior editor, The Gospel Coalition
 
 
B&H Academic, 9781433692185, 288pp.
Publication Date: October 1, 2018
About the Author
Travis Kerns serves with the North American Mission Board as a SEND City missionary in Salt Lake City, Utah. He has been studying Mormonism since 1996 and all of his academic work and study focused on Latter-day Saint history, theology, and philosophy.