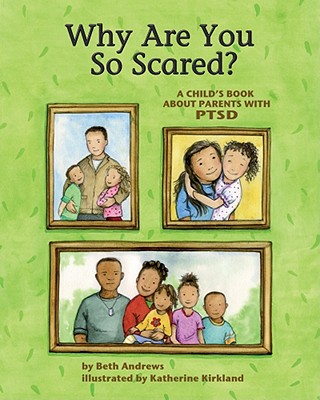 Why Are You So Scared?
A Child's Book about Parents with Ptsd
Hardcover

* Individual store prices may vary.
Other Editions of This Title:
Paperback (1/1/2002)
Description
When a parent has PTSD, children can often feel confused, scared, or helpless. Why Are You So Scared? explains PTSD and its symptoms in nonthreatening, kid-friendly language, and is full of questions and exercises that kids and parents can work through together.
The interactive layout encourages kids to express their thoughts and feelings about PTSD through writing, drawing, and designing. This book can serve as a practical tool for kids to cope with and eventually feel better about their parent's PTSD.
A comprehensive note to parents offers advice for using this book to help children communicate the emotions that may accompany their parent's PTSD recovery.
From the Note to Parents:
PTSD can negatively affect the children of parents or caregivers who experience it. In addition to being confused and worried about their parent or caregiver, children may experience fear and sadness of their own. A negatively affected child may suffer poor performance at school, act out at daycare, or withdrawal from family and friends. PTSD is not just a condition of the adult, but a condition of the family and others close to the child.
There are several important aspects of their parent or caregiver's PTSD that children should understand. Although your child's age and maturity level, and your own comfort level, should dictate how much emphasis you give any particular issue, it's important that each of the following be acknowledged, at least to plant a seed for future discussion. This book, and the discussions it is meant to facilitate, should help your child:
understand what PTSD is and what it is not;
recognize and cope with his or her feelings; and
realize that things will get better and that help is available.
This book is meant to be read by or to your child with guidance from a parent, teacher, counselor, or other adult that he or she trusts. Although you can accomplish this in several ways, it may be best to read it in sections. This way, several discussions can take place over an extended period, allowing time for your child to form questions and discover his or her own solutions to some of the concerns covered in the book. Regardless of how you decide to use this book, remember to watch for cues from your child. He is the best measure for how much information is too much and when it's OK to keep reading and talking.
Magination Press, 9781433810459, 32pp.
Publication Date: August 15, 2011
About the Author
Beth Andrews is a licensed clinical social worker, program supervisor for a community mental health center in Colorado, and college instructor. She is the author of several self-help books for children, including Why Are You So Scared? A Child's Book about Parents with PTSD, Why Are You So Sad? A Child's Book About Parental Depression and I Miss You! A Military Kid's Book About Deployment. Katherine Kirkland is an illustrator living in the Gloucestershire countryside in England with her husband and son. Katherine illustrates greeting cards and children's books, including Why Are You So Scared? A Child's Book about Parents with PTSD. Follow her on Facebook: @katherinesillustration and Twitter: @KK_scribbler.
or
Not Currently Available for Direct Purchase