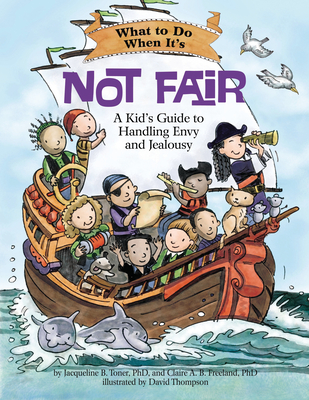 What to Do When It's Not Fair
A Kid's Guide to Handling Envy and Jealousy (What-To-Do Guides for Kids)
Paperback

* Individual store prices may vary.
Description
Gold Medal, 2013 Mom's Choice Awards

Have you ever noticed how pirates use a spyglass to focus in on other ships or land in the distance? While they focus in on small things in the distance, they miss seeing other things around them. Sometimes they miss having fun. Sometimes they miss the beautiful treasure they already have

Just like a pirate using a spyglass, kids may focus in on one thing that they want, and not notice all the good things they already have. If you're a kid who thinks "it's not fair," this book is for you

What to Do When It's Not Fair guides children and their parents through the difficult emotion of envy and jealousy using strategies and techniques based on a cognitive-behavioralprinciples. This interactive self-help book is the complete resource for educating, motivating, and empowering children to cope with envy--so they can sail the high seas with pleasure

This book is part of the Magination Press What-to-Do Guides for Kids(R) series and includes an "Introduction to Parents and Caregivers." What-to-Guides for Kids(R) are interactive self-help books designed to guide 6-12 year olds and their parents through the cognitive-behavioral techniques most often used in the treatment of various psychological concerns. Engaging, encouraging, and easy to follow, these books educate, motivate, and empower children to work towards change.
Magination Press, 9781433813412, 96pp.
Publication Date: September 16, 2013
About the Author
Claire A. B. Freeland, PhD, is a clinical psychologist in private practice, working for more than thirty-five years with youth and their families. Interested in bringing the general principles of cognitive-behavioral therapy to families everywhere, she is the co-author of What to Do When It's Not Fair, What to Do When Mistakes Make You Quake, and What to Do When You Feel Too Shy. She lives with her husband in Baltimore. They have two grown children. Visit Dr. Freeland at www.clairefreelandphd.com Jacqueline B. Toner, PhD, is the co-author of several self-help books. She has been in private practice working with children, teens, and families for over thirty years. Dr. Toner earned her PhD from the University of Virginia and completed two post-doctoral programs (in pediatric psychology and adolescent medicine) at the University of Maryland Medical School. Dr. Toner also serves as lead facilitator and consultant on a project on medical ethics led by Johns Hopkins Hospital and the University of Pittsburgh Medical Center. She is the mother of three grown children and lives with her husband in Baltimore. David Thompson, illustrator of What to Do When It's Not Fair, is a third-generation artist living in Baltimore, Maryland, with his wife and two daughters.