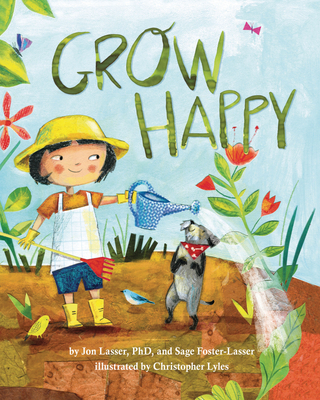 Grow Happy
Hardcover

* Individual store prices may vary.
Description
Grounded in principles of positive psychology and choice theory, Grow Happy helps kids understand that they play an important role in cultivating their own happiness using resources at their disposal. My name is Kiko.
I'm a gardener.
I grow happy.
Let me show you how. Kiko is a gardener. She takes care of her garden with seeds, soil, water, and sunshine. In Grow Happy, Kiko also demonstrates how she cultivates happiness, just like she does in her garden. Using positive psychology and choice theory, this book shows children that they have the tools to nurture their own happiness and live resiliently. Just as Kiko possesses the resources needed--seeds, soil, water--to build a thriving garden, she also has the tools to nurture her own happiness--including social support, choices, and problem-solving skills. Includes a Note to Parents and Caregivers with information on how our choices and paying attention to our bodies and feelings affects happiness.
Magination Press, 9781433823312, 32pp.
Publication Date: February 28, 2017
About the Author
Sage Foster-Lasser is an undergraduate student at the University of Texas at Austin, where she studies psychology and American studies. Grow Grateful is a follow-up to Grow Happy, her first children's book which she also co-authored with Jon Lasser. Jon Lasser, PhD, is a psychologist, school psychologist, professor, and associate dean for research in the College of Education at Texas State University. Grow Grateful is a follow up to his first children's book, Grow Happy, also written with Sage Foster-Lasser. Jon Lasser resides in Martindale, Texas. Follow him on Twitter: @JonLasser. Christopher Lyles has illustrated numerous books for children, including When You Look Out the Window, Grow Happy and Grow Grateful. Inspired by vintage graphics and antique surfaces, he uses collage and mixed media applications to create his art. He lives in Simsbury, CT. Visit him at chrislyles.tumblr.com and follow him on Facebook: @LylesDesigns, Twitter: @ChrisLyles, and Instagram: @ChrisLyles.