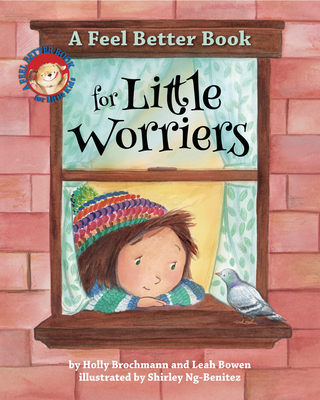 A Feel Better Book for Little Worriers
Hardcover

* Individual store prices may vary.
Other Editions of This Title:
Hardcover (8/24/2021)
Hardcover (6/11/2019)
Hardcover (3/19/2018)
Description
Read all of the Feel Better Books A Feel Better Book For Little Worriers, A Feel Better Book for Little Tears, A Feel Better Book for Little Poppers, A Feel Better Book for Little Tempers, and A Feel Better Book for Little Sports.
Worries can feel like a BIG problem to a LITTLE kid
A Feel Better Book for Little Worriers assures kids that having some worries is normal -- everyone has them, even adults
The rhyming narration helps little kids to identify a worry and where it might come from, as well as provides them with helpful tools to reduce and cope with worries.
Includes a Note to Parents and Caregivers that expands on the cognitive-behavioral science behind the strategies and tools presented in the book, with more information on how you can help your little worrier to stay calm.
From the Note to Parents and Caregivers:
Imagine if the skills for managing stress and anxiety were learned in early childhood. Children as young as three years old who are experiencing anxious feelings for the first time could ease their worries by practicing proper breathing and relaxation techniques.. Teaching these skills early in a child's life will not only establish confidence and courage, but will set the foundation for managing
anxiety that can transition well into adulthood.
How This Book Can Help A Feel Better Book for Little Worriers
offers an interactive approach that not only teaches little worriers to recognize anxiety as it's happening, but provides them with simple coping mechanisms they will look forward to practicing day after day. Each verse offers a valuable lesson. Whether using this book at home, school, or in a clinical setting, these lessons can be put to use in a multitude of ways.
Magination Press, 9781433827181, 32pp.
Publication Date: August 7, 2017
About the Author
Leah Bowen and Holly Brochmann are sisters and the co-authors of A Feel Better Book for Little Worriers and A Feel Better Book for Little Tempers. Leah Bowen has a Master of Education degree in counseling with a focus in play therapy. She is a Licensed Professional Counselor and Registered Play Therapist in the state of Texas where she currently practices, and she is committed to helping her child clients work through issues including abuse, depression, and anxiety. Holly Brochman is an advocate for managing common mental health issues through therapy and exercise. She has a degree in journalism and enjoys creative writing both as a hobby and as a primary part of her career in public relations. Follow them on Twitter: @bsistersbooks. Shirley Ng-Benitez is the owner of Gabby & Company, a firm designing, illustrating, and handlettering for the technology, greeting card, medical, toy, and publishing industries. She lives in San Martin, CA, with her husband and two daughters. Visit her at www.shirleyngbenitez.com and follow her on Twitter and Instagram: @shirleysillos