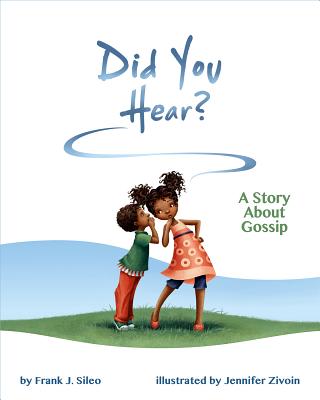 Did You Hear? (Hardcover)
A Story about Gossip
Magination Press, 9781433827204, 32pp.
Publication Date: October 9, 2017
* Individual store prices may vary.
Description
Gold medal, Mom's Choice Awards

Did you hear Eric picks his nose?
Did you hear Alexa has eleven toes?

On the playground, between friends, or in school...gossip and playful chit-chat is a common occurrence. People will talk; this is an almost universal truth in any society. We are naturally interested in the lives of others. Children are especially susceptible to this, as they learn to interact socially and push boundaries.

Did You Hear? is a lively story that encourages kids to think about the effect that gossip might have on others and to perhaps choose to interact in other, more productive, ways. Illustrations take readers through a day in a little girl's life and the gossip around her as the kids around her ask "did you hear?"

Includes a Note to Parents and Caregivers that discusses the motivations behind gossip and what adults can do to teach and model appropriate social interactions and empathy.
About the Author
Frank J. Sileo, PhD, is a New Jersey licensed psychologist and the founder and executive director of The Center for Psychological Enhancement in Ridgewood, New Jersey. He received his doctorate from Fordham University in New York City. Since 2010, he has been consistently recognized as one of New Jersey's top kids' doctors. He is the author of seven other children's books, including Sally Sore Loser: A Story about Winning and Losing, Don't Put Yourself Down in Circus Town: A Story about Self-Confidence, A World of Pausabilities: An Exercise in Mindfulness and Did You Hear? A Story about Gossip. His books have received gold medals from the prestigious Mom's Choice Awards and have won silver medals from the Moonbeam Children's Book Awards and the Independent Publisher Book Awards. Dr. Sileo speaks across the country and does author visits. Dr. Sileo teaches mindfulness to his patients, and to schools and organizations. Visit Dr. Sileo at www.drfranksileo.com and follow him on Twitter: @DrFrankSileo Facebook: @DrFrankSileo Jennifer Zivoin has always loved art and storytelling, so becoming an illustrator was a natural career path. She has been trained in media ranging from figure drawing to virtual reality, and earned her bachelor of arts degree with highest distinction from the honors division of Indiana University. During her professional career, Jennifer worked as a graphic designer and then as a creative director before finding her artistic niche illustrating children's books, including Something Happened in Our Town, Did You Hear?, and A World of Pausabilities. She lives in Indiana.Visit her at www.jzartworks.com.