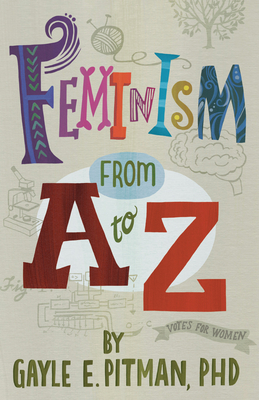 Feminism from A to Z (Paperback)
Magination Press, 9781433827211, 288pp.
Publication Date: October 23, 2017
* Individual store prices may vary.
Description
Gold Medal,2018 IPPY Awards
Silver medal, 2017 Foreword INDIES Awards
*"Pitman does an excellent job of making complex topics understandable and relatable while providing tips on actions people can take to bring more equality to the world. A great purchase for both public and high school libraries." --
School Library Journal
Starred Review
Dive into Feminism From A to Z for an accessible primer on history, current events, and essential issues through the lens of feminist theory and perspective. Not only will you learn something about yourself, your community, your people, and your world, you will discover kick-ass call-to-action suggestions and resources to take your feminism to a higher level
A book for all teens -- no matter what gender you are -- about feminism: what it is, what it means, and how to do it...from A to Z.
Written by the author of the Stonewall Award-winning book,
This Day in June
,
Feminism From A to Z
is an alphabetical primer on feminism for teen girls. Each chapter examines a topic that offers call-to-action exercises incorporated into each lesson. Includes an introduction to readers on how to use the book and an alphabetical list of ways to take feminist action.
From the introduction:
So many girls and women don't have easy access to the tools of feminism. In fact, if we learn about feminism at all, it probably won't be until after we finish high school. And that is a shame. Imagine how different life would be if, at the age of 13 and suddenly faced with casual sexism for the first time, you had a strong grasp of feminist principles and a hefty feminist toolbox at your fingertips? Let's be more specific. Here are some situations where feminism can be really helpful:
If you've ever felt "fat."
If you've ever been pressured to do something you didn't want to do, or that went against your values.
If you've ever been afraid to speak up.
If you've ever been bullied--or been a bully.
If your confidence has ever felt shaky.
If you've ever felt unwelcome because of who you are.
Feminism can help you navigate all of these scenarios--and then some. That's why I wrote this book. Because I believe that feminism will change your life.