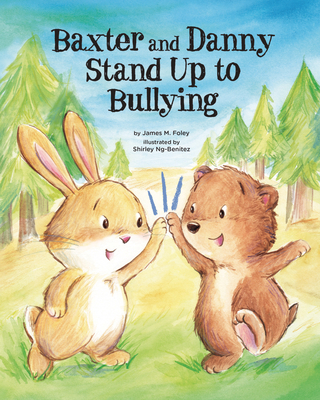 Baxter and Danny Stand Up to Bullying (Hardcover)
Magination Press, 9781433828188, 32pp.
Publication Date: March 15, 2018
* Individual store prices may vary.
Description
I am great and so are you
Together we can make it through.
Working hard, helping out:
That's what we are all about

Baxter the Bunny is the fastest animal in the forest. Danny the Bear is the best dancer. Baxter and Danny like to run and dance together in the forest...until Buford Blue Jay comes along. Buford makes up mean names for all the animals in the forest.

With the help of Queen Beth of the Bees, Baxter and Danny learn how to start feeling better, and help the other animals in the forest feel better too. Together, they are able to stand up to Buford's bullying

Includes a Note to Parents and Other Caregivers with more information about bullying and strategies for building self-esteem and resilience in children.

From the Note to Parents and Other Caregivers:

The key to coping with bullying behavior is to help your child build self-esteem and resilience. Baxter and Danny Stand Up to Bullying is intended as a primer in coping with bullying presented in story form. In the story, Baxter and Danny demonstrate strategies such as reinforcing the forest animals' self-esteem, sticking together, and assertively taking action against Buford Blue Jay's bullying behavior.