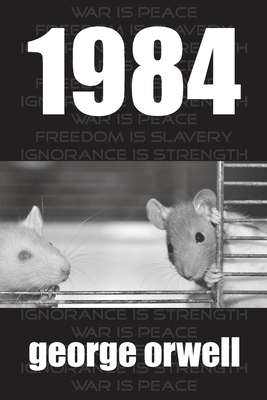 1984 (Paperback)
Waking Lion Press, 9781434104335, 312pp.
Publication Date: May 19, 2020
Other Editions of This Title:
Paperback (7/1/1950)
Paperback (4/1/1983)
Paperback (9/30/2019)
Hardcover (4/4/2017)
Hardcover (12/1/2017)
Hardcover (5/13/2020)
Hardcover (11/3/1992)
Paperback, Large Print (4/5/2017)
Hardcover (7/1/1950)
Paperback, Spanish (8/1/2002)
Compact Disc (5/1/2007)
Hardcover (10/15/2005)
Hardcover, Chinese (11/26/2014)
MP3 CD (4/12/2007)
Audio Cassette (5/1/2007)
Audio Cassette (4/1/2007)
Hardcover (10/1/1983)
Hardcover, Chinese (8/1/2004)
* Individual store prices may vary.
Description
Winston Smith is a hardworking member of the Party, the ruling government of Oceania. Laboring in the Ministry of Truth, the Party's propaganda arm, he is in charge of revising history, the Party's way of controlling the past as well as the present. And Big Brother, the Party's all-powerful leader, is always watching, always making sure that everyone does exactly what they are supposed to do. This makes for an orderly society, but individuality is crushed. Even love is forbidden, with procreation under the strict supervision of the Party. But then Winston meets Julia and learns of "The Book," a forbidden publication that seems to promise a different way of life.
1984's brilliance comes from Orwell's prescient understanding of modern life--the power of the media, the loss of privacy, the distortion of language for the sake of "political correctness," and the suppression of individual thought and expression. Required reading for students since it was first published, it is one of the most disturbing and powerful novels ever written.
Newly designed and typeset by Waking Lion Press.