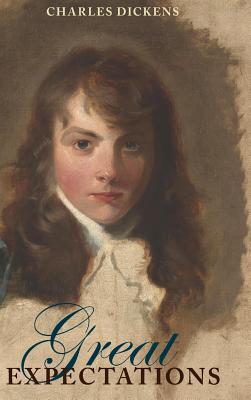 Great Expectations
Hardcover

* Individual store prices may vary.
Other Editions of This Title:
Paperback (7/29/2020)
Paperback (6/27/2020)
Paperback (3/13/2008)
Paperback (1/4/2020)
Paperback (1/15/2009)
Paperback (6/8/2020)
Paperback (12/14/2017)
Paperback (7/17/2020)
Paperback (7/26/2018)
Paperback (4/8/2020)
Paperback (6/18/2013)
Paperback (3/29/2020)
Paperback (12/4/2013)
Paperback (12/14/2012)
Paperback (6/14/2012)
Paperback (1/24/2020)
Paperback (2/16/2014)
Paperback (1/7/2020)
Paperback (11/20/2013)
Paperback (9/1/2004)
Description
Set among the marshes of Kent and in London in the mid-1800s, Great Expectations begins with a terrifying encounter between a young orphan, Pip, and an escaped convict, Abel Magwitch. Forced to steal food and supplies for the man, Pip little realizes how his actions will alter his future. Later, after Pip is called upon to visit the wealthy Miss Havisham and her haughty daughter Estella, he finds that when he comes of age, he stands to inherit a fortune--the "great expectations" of his future. But what is this source of this fortune? And what effect will it have on his life? In the end, nothing in Pip's life is as it seems. This is a gripping tale of crime and guilt, revenge and reward, that will last for all time. "One of the 1,000 novels everyone must read." --The Guardian. "Great Expectations is a masterpiece." --The Atlantic. "An unforgettable tale of fate and a chance encounter between two strangers that radically and arbitrarily alters the lives of everyone around them." --Oprah.com. Great Expectations is a big book, and most publishers try to pack it into small newsprint pages with tiny, nearly unreadable type. This edition, on the other hand, has been newly designed and printed on large-format, archival-quality paper with easy-to-read type, making it a deluxe volume at a still-reasonable price. Printed with "green," on-demand technology, this is a book you can feel good about buying. Complete and unabridged.
Waking Lion Press, 9781434116123, 516pp.
Publication Date: December 4, 2013