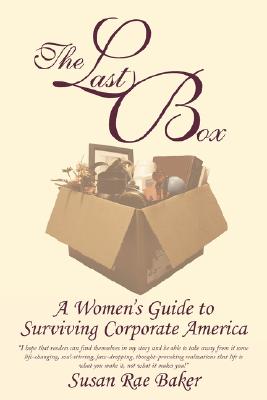 The Last Box (Paperback)
A Women's Guide to Surviving Corporate America
Authorhouse, 9781434362568, 140pp.
Publication Date: April 10, 2008
* Individual store prices may vary.
Description
Author Susan Rae Baker has taken over 30 years of life experience and packed it into a very engaging, thought provoking book that is sure to not only entertain, but to bring an awareness to women in the working world or about to enter it, of the personalities that they would like to aspire to or run from. She has become in a very short time a most respected and engaging speaker, teacher and leader in the field of Life and Business Coaching. Susan is bringing forth positive change in people who would otherwise remain stuck in a rut of indecision. Her inspirational workshops have brought an awareness of life and business coaching to the eastern shores of Delaware and Maryland. Susan has been seen on local television stations and is soon to become a radio talk show personality. Her aspiration in life is to help people become what they were designed to be, so that they can live a happy, fulfilling and successful life. Her next book will be a collection of women's journeys on the path to their defining moments. To learn more about it, or to submit your story, visit the website http: //www.future-endeavors.net/call_to_share.html. To book Susan for seminars, please visit her website http: //www.future-endeavors.net.