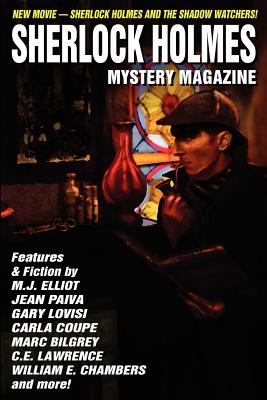 Sherlock Holmes Mystery Magazine #6 (Paperback)
Wildside Press, 9781434433206, 144pp.
Publication Date: September 1, 2011
Other Editions of This Title:
Paperback (2/1/2016)
Paperback (4/14/2014)
Paperback (6/9/2016)
Paperback (12/4/2014)
Paperback (4/7/2015)
Paperback (4/20/2009)
Paperback (10/1/2013)
Paperback (3/16/2011)
Paperback (6/10/2013)
Paperback (7/1/2015)
* Individual store prices may vary.
Description
The sixth issue of Sherlock Holmes Mystery Magazine features another stellar lineup of Holmes-themed non-fiction and Holmes-inspired mystery fiction. Included are:
NON-FICTION: "The Rare Mexican Sherlock Holmes Series," by Gary Lovisi; "Remembering Edward D. Hoch and His Sherlock Holmes Stories," by Len Moffatt; "Screen of the Crime: Baker Street on a Budget," by Lenny Picker; and "The Autumn of Terror: Sherlock Holmes Investigates Jack the Ripper," by M. J. Elliott.
FICTION: "A Memo from Inspector Lestrade," "The Curse of Bridges Falls," by William E. Chambers; "Let Them Eat Cake," by Jean Paiva; "The Little Blue Dog," by Marc Bilgrey; "The Bank Job," by Steve Hagood; "Silent Victim" (novel excerpt), by C.E. Lawrence; and "The Book of Tobit," by Carla Coupe.
CLASSIC REPRINT: "The Reigate Squires," by Arthur Conan Doyle.
POETRY: "The Shadow Train," by Mike Allen.