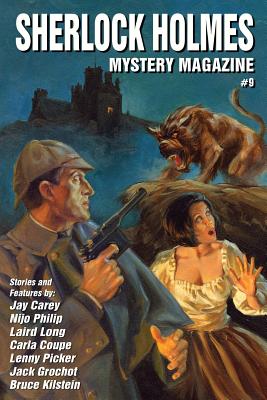 Sherlock Holmes Mystery Magazine #9 (Paperback)
Wildside Press, 9781434442079, 146pp.
Publication Date: June 10, 2013
Other Editions of This Title:
Paperback (2/1/2016)
Paperback (4/14/2014)
Paperback (6/9/2016)
Paperback (12/4/2014)
Paperback (4/7/2015)
Paperback (4/20/2009)
Paperback (10/1/2013)
Paperback (3/16/2011)
Paperback (7/1/2015)
Paperback (9/1/2011)
* Individual store prices may vary.
Description
"Sherlock Holmes Mystery Megazine" returns with issue #9, presenting the best in modern and classic mystery fiction Included this time are the usual columns by Lenny Picker and Mrs Hudson, plus the following stories:
BONEYARD, by Marc Bilgrey
BULLY FOR YOU, by Carla Coupe
THE HEREAFTER PARTY, by Paullette Gaudet
THE HOT STOVE LEAGUE, by Janice Law
THE COIN AND THE CHEMIST, by Nijo Philip
THE CASE OF VAMBERRY THE WINE MERCHANT, by Jack Grochot
UP TO NO GOOD, by Laird Long
WE'RE UPSIDE DOWN AND INSIDE OUT, by Jay Carey
VALENTINE'S DAY, by John M. Floyd
THE BLACKHEATH COLLAPSE, by Sherlock Holmes (as edited by Bruce Kilstein)
THE FIVE ORANGE PIPS, by Sir Arthur Conan Doyle
"Sherlock Holmes Mystery Magazine" is produced under license from Conan Doyle Estate Ltd.