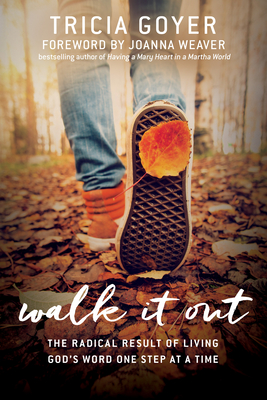 Walk It Out
The Radical Result of Living God's Word One Step at a Time
Paperback

* Individual store prices may vary.
Description
Women often pack their lives with family, friends, and faithful service, yet still end up feeling empty and unfulfilled. In Walk It Out, Tricia Goyer demonstrates to women that walking out the mandates of Scripture allows God to spark passion and mission within them.
 
Whether believers realize it or not, God intended for them to do what the Bible says: adopt the orphan, take the gospel into all the world, and care for the needy. These are mandates that point believers down the path of true living and eternal life.
 
Sometimes those steps are easy, but many times they require a move outside of what feels safe or secure. When women stop focusing on their own dreams and purposes, and instead focus on God's dreams and purposes, everything changes. 
Praise For Walk It Out: The Radical Result of Living God's Word One Step at a Time…
"Tricia Goyer lives a life that will challenge readers to step up and walk out faith in our homes, communities, and the world, and ultimately experience all the joy promised when we are in His will and doing His work."
—Francine Rivers, New York Times bestselling author of more than thirty novels, including Redeeming Love


— Francine Rivers

"For several decades, I have watched Tricia and her family take large and small steps of faith. If God said it, they did it. Every time the results have been extraordinary. I'm so glad she's captured the best of those experiences in this practical, deeply inspirational book. She demonstrates how, when we listen and do what God asks us to do, He always provides, directs, and blesses us many times over. If you need motivation to get your life back on the path that leads to joy and great hope, grab this book and 'walk it out.' A radically changed life awaits you!"
—Robin Jones Gunn, bestselling author of Victim of Grace and Spoken For


— Robin Jones Gunn

"Tricia Goyer doesn't just walk it out; she compels us to do the same. This is one of those rare books that changes you. There is no abstract spirituality within these pages. Walk It Out is practical and inspiring for every reader who needs to know what it means to follow Jesus in the everyday moments of life."
—Amber Lia, bestselling author of Triggers: ExchangingParents' Angry Reactions for Gentle Biblical Responses


— Amber LIa

"Walk It Out is compelling, thought-provoking, and encouraging. Tricia takes readers through her personal journey to discover what it meant for her family to truly walk out Scriptures that instruct us all to care for the 'least of these,' while inviting all of us to move away from our comfort zones and into God's will. A must-read for anyone who needs a reminder that serving is not about a bigger to-do list or striving but about a deeper connection with Jesus."
—Crystal Stine, freelance writer, communications consultant, author of Creative Basics and Holy Hustle (fall 2018)


— Crystal Stine

"Tricia Goyer doesn't dictate how you 'should' live by faith in God's Word. She walks it out. Sharing her own redeemed struggles, Tricia guides your heart to embrace Jesus's unique purposes and helps you 'take hold of the life that is truly life.'"
—Heather MacFadyen, creator and host of the GodCenteredMom podcast
 
— Heather MacFadyen
David C Cook, 9781434710994, 224pp.
Publication Date: October 1, 2017
About the Author
Tricia Goyer is a prolific author of more than sixty books. She is a homeschooling mom of ten, grandmother of four, and wife to John. She is the founder of Hope Pregnancy Center in Kalispell, Montana and now leads a teen mom support group in Little Rock, Arkansas.
 
or
Not Currently Available for Direct Purchase