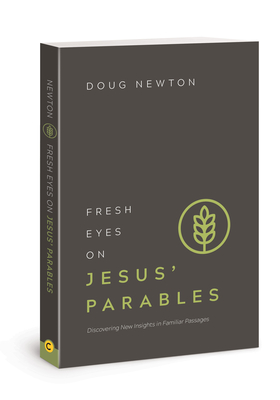 Fresh Eyes on Jesus' Parables (Paperback)
Discovering New Insights in Familiar Passages
David C Cook, 9781434712127, 208pp.
Publication Date: August 1, 2018
* Individual store prices may vary.
Description
How does the parable of the good Samaritan redefine acts of social justice, not just acts of mercy? What does the story of the five talents teach us about daily spiritual life?
 
Fresh Eyes on Jesus' Parables offers a new perspective on the stories Jesus told to His closest disciples. As in every book in this unique series, Pastor Doug Newton provides life-changing techniques for reading Scripture, such as skills in interpreting one passage using another. Readers will love discovering familiar parables again as if for the first time.
 
About the Author
Doug Newton is the cofounder and director of the National Prayer Ministry of the Free Methodist Church-USA. The author of nine books, he served for thirty years as a senior pastor and for fifteen years as editor of Light & Life magazine. Newton and his wife, Margie, live in Greenville, Illinois.
 
Praise For Fresh Eyes on Jesus' Parables: Discovering New Insights in Familiar Passages…
"Doug Newton reminds us that the compelling teachings and miracles of Jesus were not just clever events to create believers but were the examples of everyday life. In captivating stories, Newton refocuses us to remember that staying 'tuned in' in prayerful communion opens our eyes to the reality that miracles happen all around us all the time."
—Hal Conklin, president of USA Green Communities, former mayor of Santa Barbara, California
— Hal Conklin
"Fresh Eyes is a crucial series for our hyper-connected world. Doug Newton equips readers with the tools needed to slow down, open our eyes, and unlock the true meaning of the inspired stories of the Bible. As he has done from the pulpit for many years, Doug provides rich guidance and training with easy-to-understand language and stories that make things click. Fresh Eyes is a must-have for anyone who wants to be equipped to wrestle with the meaning of Scripture and the many ways it applies to the hustle and bustle of twenty-first-century living."
—Hugo Perez, chief marketing officer, OHorizons Foundation
— Hugo Perez
"I heard Doug speak over a decade ago on the feeding of the five thousand, and I still remember what he said. He brought the familiar story to life in a way that made me see it all unfold. I remember thinking, What would I have done if I' d been there that day with Jesus? That's why Doug's writing is so valuable. God recorded these events in His Word and Doug takes readers to those moments in history and makes them relatable and best of all, memorable."
—Robin Jones Gunn, bestselling author of over ninety books including the Christy Miller series and Victim of Grace
— Robin Jones Gunn