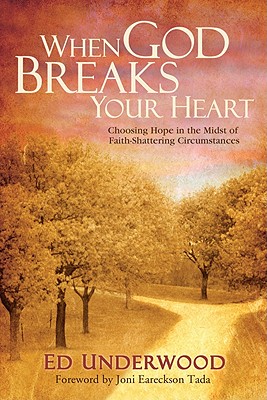 When God Breaks Your Heart: Choosing Hope in the Midst of Faith-Shattering Circumstances (Paperback)
Choosing Hope in the Midst of Faith-Shattering Circumstances
David C Cook, 9781434767516, 219pp.
Publication Date: October 1, 2008
* Individual store prices may vary.
or
Not Currently Available for Direct Purchase
Description
"Why is God letting this happen to me?"
If you have never asked this question, you someday will.
There is perhaps no greater challenge to our faith than personal suffering. For pastor Ed Underwood this challenge came in the form of chronic leukemia. Though he prayed for and believed in God's healing, as the days slipped by and his pain became unbearable, Ed's heart was broken by a simple realization: The God who could do anything was not helping him. Yet a revelation from God's Word changed his heart and life forever.
In this poignant journey from tragedy to hope, Ed takes a fresh look at the story of Lazarus and his sisters a story that explores suffering through the eyes of our Lord and His people. You'll find comfort during difficulty, be inspired to ask for the impossible, and discover a God whose heart breaks with yours.
About the Author
Ed Underwood is the pastor of Church of the Open Door, a ministry dedicated to helping people fulfill their purpose in life. He is a graduate of Dallas Theological Seminary and has served as an officer in the United States Army and a firefighter for the U.S. Forest Service. Ed and his family reside in southern California.
Advertisement