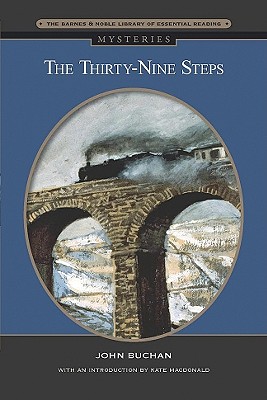 The Thirty-Nine Steps (Barnes & Noble Library of Essential Reading)
Paperback

* Individual store prices may vary.
Other Editions of This Title:
Paperback (7/25/2016)
Paperback (6/12/2015)
Paperback (10/12/2015)
Paperback (6/18/2016)
Paperback (6/6/2016)
Paperback (10/8/2018)
Paperback (7/10/2017)
Paperback (7/12/2016)
Paperback (4/15/2015)
Paperback (4/1/2018)
Paperback (6/3/2014)
Paperback (7/6/2016)
Paperback (4/10/2015)
Paperback (10/7/2015)
Paperback (3/27/2011)
Paperback (1/28/2015)
Paperback (11/11/2018)
Paperback (11/29/2012)
Paperback (8/26/2017)
Paperback (10/18/2016)
Description
John Buchan takes us back to Edwardian Britain on the eve of the First World War in the modern thriller The Thirty-Nine Steps. An inexplicable murder drives the innocent Richard Hannay, on the run from a manhunt that never seems to end, to hide in remote Scottish moorland. Disguise and deception are his only weapons, as he struggles to decode the clues left by the murdered man to prevent the theft of naval secrets by an unfriendly foreign power. Buchan's narrative voice has the easy authority of a government insider, with the smooth assurance of a man in the know. The Thirty-Nine Steps was a powerful influence on the development of the detective novel, the action romance, and the spy story.
Barnes & Noble, 9781435110618, 128pp.
Publication Date: March 23, 2009
About the Author
John Buchan (1875-1940) was a polymath who lived in the Victorian, Edwardian, and Georgian eras, through the Boer War and the First World War. He studied at the University of Glasgow and at Oxford, and his writing style shows a clear reliance on the solid foundations of a Victorian Presbyterian manse upbringing and his classical education. As well as being a writer for more than forty-five years, Buchan was a civil servant, a journalist, a publisher, a war propagandist, a historian and biographer, a member of Parliament, and finally, in 1935, ennobled as Lord Tweedsmuir, he was appointed governor-general of Canada.
or
Not Currently Available for Direct Purchase