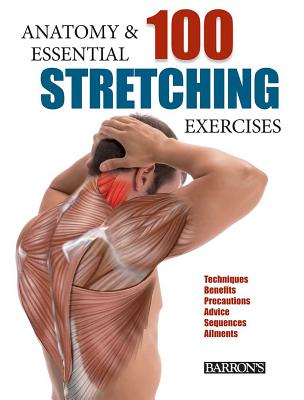 Anatomy and 100 Essential Stretching Exercises
Paperback

* Individual store prices may vary.
Description
Barron's Anatomy and 100 Essential Stretching Exercises helps you improve your flexibility, overcome physical ailments, and increase your overall sense of well-being. This comprehensive guide features over 100 stretching exercises to help you improve your range of motion, decrease discomfort, and prevent injuries. Easy-to-understand exercises are clearly illustrated and contain simple, precise instructions for the proper way to stretch every part of your body.
This guide includes:
Effective exercises for athletes, non-athletes, and those searching for pain relief associated with injuries
Step-by-step methods for the most effective exercise routines
Anatomical descriptions of the parts of the body and the muscles being worked
Photographic representations of each exercise, with detailed illustrations of the primary and secondary muscles
Explanatory text that ensures correct techniques and proper safety precautions
The numbers of repetitions needed depending on fitness levels (beginner, intermediate, advanced) and the physiological benefits of each exercise
A quick reference guide to the most beneficial stretches for specific ailments, and more
Barrons Educational Series, 9781438006178, 168pp.
Publication Date: October 1, 2015