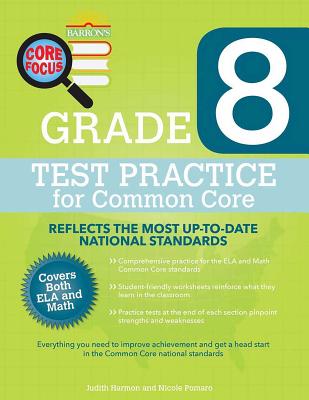 Barron's Core Focus Grade 8 (Paperback)
Test Practice for Common Core
Barrons Educational Series, 9781438007120, 264pp.
Publication Date: March 1, 2016
* Individual store prices may vary.
Description
Help students practice and prepare for the all-important Common Core assessment tests at the end of the school year. Every turn of the page provides a new standard with a series of practice questions for students to work on. Features include:
Hundreds of practice questions complete with detailed answers
Many different question types, including multiple choice, short answer, extended response, and more
Tip boxes throughout the book provide students with friendly reminders
Easy-to-follow tabs allow parents and teachers to recognize the types of questions within each standard
An easy-to-follow, side-by-side layout lets students conquer one standard at a time
Student-friendly worksheets reinforce what they are learning in the classroom
Practice tests at the end of each section pinpoint strengths and weaknesses
A cumulative assessment tests their understanding of everything they have learned
Grade 8 Test Practice for Common Core
can be used at home or in the classroom. It's an excellent resource for parents and teachers as they help students meet and exceed grade level expectations on the Common Core assessment tests.
About the Author
Nicole Pomaro has been teaching seventh and eighth grade English Language Arts at Blue Ribbon middle school on Long Island for seven years. She has been trained in the implementation of the Common Core standards. She has also collaborated with another colleague in the implementation and curriculum development of a Reading and Writing Workshop for eighth graders, which she currently teaches. Ms. Pomaro loves language and literature and strikes to invoke a similar passion in her own students.