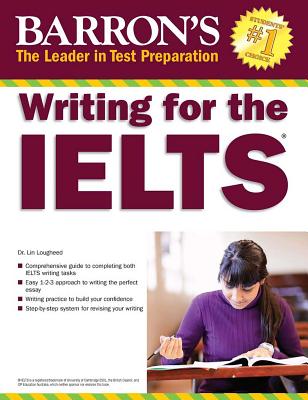 Writing for the IELTS (Paperback)
Barrons Educational Series, 9781438007656, 312pp.
Publication Date: June 1, 2016
* Individual store prices may vary.
Description
Discover everything you'll need to know in order to write well for the IELTS test, whether you are planning to take the Academic or the General Training version. This book will help IELTS test takers learn several essential skills, including:
Task Achievement: follow a three-step model to plan, write, and revise your essays
Coherence and Cohesion: practice organizing your writing and connecting ideas
Lexical Resource: build your vocabulary and use it correctly
Grammatical Range and Accuracy: review rules and practice applying them to your writing
Each section leads you step-by-step through the process of writing an essay in response to a particular task. Learn how to apply what you've learned, familiarize yourself with the types of questions you'll have to respond to on the test, complete your responses within the time limits, and more. An Appendix also includes a More Writing Practice section with a selection of essays written in response to IELTS writing tasks.
About the Author
Lin Lougheed is the leading authority in ESL test preparation for TOEIC, TOEFL, and IELTS. Dr.Lougheed started his EFL career in 1968 as a Peace Corps volunteer in Turkey. He earned his doctorate at Teachers College, Columbia University and has received two Fulbright awards: a scholar grant in Sri Lanka and a professor grant in Tunisia. As a Foreign Service Officer, he trained teachers and worked with Ministries of Education in Guatemala, Columbia, Haiti, Chile, Sudan, Morocco, Algeria, Tunisia, Saudi Arabia, Qatar, Uzbekistan, Ukraine, and Kazakhstan. For his publishers he has given teaching training seminars in Japan, Taiwan, Thailand, South Korea and Puerto Rico.In 1983, he founded Instructional Design International, Inc. to develop English teaching materials in all media. Lin is a past member of the TESOL Executive Board and has served as the chair of two special interest groups: Teaching English Internationally and Materials Writers. He has written over 40 English-as-a-foreign-language texts and had a daily radio show in China on business English. He is currently a Trustee of Columbia University Teachers College.