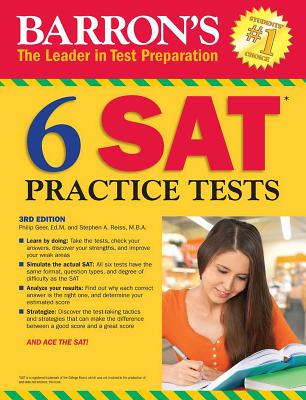 6 SAT Practice Tests (Barron's Test Prep) (Paperback)
Barrons Educational Series, 9781438009964, 544pp.
Publication Date: September 1, 2017
* Individual store prices may vary.
Description
College-bound students will find intensive test-taking practice for the all-important SAT in this latest edition. They'll find everything they need to ace the test, including:
Six full-length practice exams similar in length, structure, question type, and degree of difficulty to the new SAT
All questions answered and explained
Self-appraisal information for scoring the SAT essay question
Test-taking tips and strategies that will help students use this book to their best advantage to maximize their scores
This book offers excellent SAT test preparation when used alone, and also makes a fine companion volume for test takers who purchase Barron's SAT, 29th Edition (978-1-4380-0998-8).
About the Author
Philip Geer, Ed.M., has taught English language and literature for more than 30 years in the United States and abrouad. He has also prepared students for various standardized tests of verbal ability. He is the author of Barron's 6 SAT Practice Tests, Essential Words for the GRE, Barron's GRE Verbal Workbook, Picture These SAT Words, and Picture These SAT Words in a Flash. He is the academic director of Mentaurs, an educational consultancy that prepares students for standardized tests such as the SAT and the GRE.

Stephen Reiss is the founder and owner of the Math Magician and the Reiss SAT Seminars, test preparation centers in San Diego. Jokingly referred to as "San Diego's most boring author", Reiss has authored, co-authored, and edited more than forty books for the test preparation industry. Reiss is also a member of Mensa, the high IQ society.