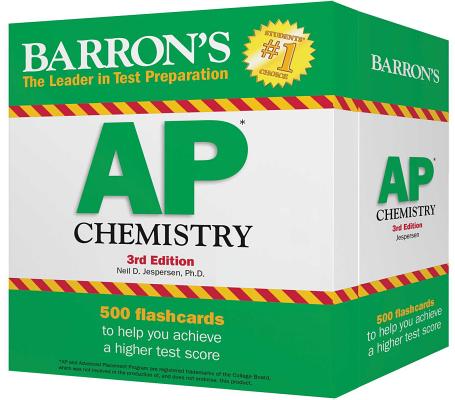 AP Chemistry Flash Cards (Barron's Test Prep) (Cards)
Barrons Educational Series, 9781438011745, 500pp.
Publication Date: February 5, 2019
* Individual store prices may vary.
Description
Learn chemistry definitions, formulas, and structures for the AP exam with Barron's AP Chemistry Flash Cards, which are updated to reflect the latest exam and organized according to the College Board's six "big ideas" for AP Chemistry.

The set includes 500 flash cards to help students review and test their knowledge. Cards include content in question form on the front, with explanations and chemical reactions on the reverse side.

The cards measure 4 1/2" x 2 3/4" and have a punch-hole in one corner that accommodates an enclosed metal key-ring-style card holder, so students can arrange the flash cards in the way that suits their study needs.

For full-length practice tests and even more review, check out Barron's AP Chemistry with Online Tests.
About the Author
​About the Author
Neil D. Jespersen is an active member of the Department of Chemistry at St. John's University (Queens, New York). He earned his B.S. degree with special attainments in chemistry at Washington and Lee University (Lexington, Virginia) and his Ph.D. at Pennsylvania State University (University Park, Pennsylvania). He specializes in analytical chemistry research and has mentored more than 100 undergraduate research students and 25 graduate students. Dr. Jespersen teaches graduate and undergraduate courses in instrumental analysis and quantitative chemical analysis. He also teaches general chemistry on a regular basis and coordinates the general chemistry laboratory program. Dr. Jespersen is a fellow of the American Chemical Society and currently serves as a councilor from the New York section. He is also the faculty advisor to the ACS Student Chapter at St. John's University.

About the Publisher
In the 1930s, Manuel H. Barron opened a bookstore in Brooklyn, New York. 

People from the community asked Mr. Barron about books that might be available to help their children study for the New York State Regents exams. After realizing there wasn't anything available, Mr. Barron's created his own study guides.

80 years later, Barron's has helped millions of people prepare for their next step.