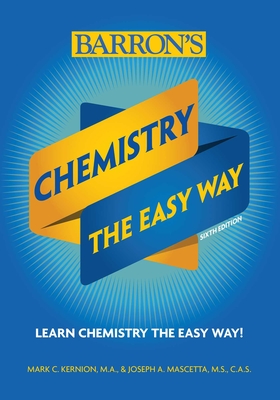 Chemistry (Paperback)
The Easy Way (Barron's Easy Way)
Barrons Educational Series, 9781438012100, 544pp.
Publication Date: August 6, 2019
* Individual store prices may vary.
Description
This new edition in Barron's Easy Way Series contains everything students need to succeed in chemistry. Chemistry: The Easy Way provides key content review and practice exercises to help students learn chemistry the easy way.

Barron's Chemistry: The Easy Way covers all important chemistry topics, from atomic structure and chemical formulas to electrochemistry and the basics of organic chemistry. Three full-length tests are included with answers fully explained, two of them modeled after the SAT Subject Area Chemistry Test. A method of diagnosing students' strengths and weaknesses by topic area is included with each test.

Practice questions in each chapter help students develop their skills and gauge their progress. Visual references including charts, graphs, diagrams, instructive illustrations, and icons help engage students and reinforce important concepts.

The previous edition of this book was titled E-Z Chemistry.
About the Author
About the Author
Mark Kernion has been teaching AP and honors chemistry for the past fifteen years at Mt. Lebanon High School in Pittsburgh, PA. In 2006, he was inducted into the Cum Laude Society, which is dedicated to honoring scholastic achievement in secondary schools. He was the recipient of the 2007 Yale Teaching Award. An inventor, he holds a number of patents.

About the Publisher
In the 1930s, Manuel H. Barron opened a bookstore in Brooklyn, New York. 

People from the community asked Mr. Barron about books that might be available to help their children study for the New York State Regents exams. After realizing there wasn't anything available, Mr. Barron's created his own study guides.

80 years later, Barron's has helped millions of people prepare for their next step.