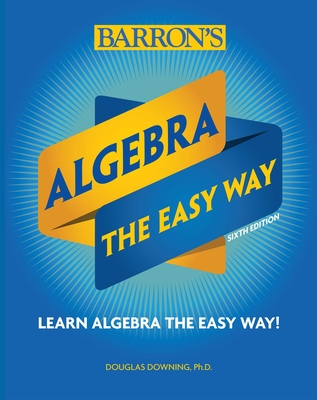 Algebra (Paperback)
The Easy Way (Barron's Easy Way)
Barrons Educational Series, 9781438012131, 528pp.
Publication Date: September 3, 2019
* Individual store prices may vary.
Description
This new edition in Barron's Easy Way Series contains everything students need to prepare for an algebra class. Algebra: The Easy Way provides key content review and practice exercises to help students learn algebra the easy way.

Topics covered in this detailed review of algebra include general rules for dealing with numbers, equations, negative numbers and integers, fractions and rational numbers, exponents, roots and real numbers, algebraic expressions, functions, graphs, systems of two equations, quadratic equations, circles, ellipses, parabolas, polynomials, and numerical series.

Practice questions in each chapter help students develop their skills and gauge their progress. Visual references including charts, graphs, diagrams, instructive illustrations, and icons help engage students and reinforce important concepts.
About the Author
About the Author
Douglas Downing teaches economics and statistics at Seattle Pacific University. He is the author of several books in the E-Z series: Algebra, Trigonometry, Calculus, and Java Programming, along with Dictionary of Mathematics Terms and Dictionary of Computer and Internet Terms (with Michael and Melody Covington). He holds a Ph.D. degree in economics from Yale University.

About the Publisher
In the 1930s, Manuel H. Barron opened a bookstore in Brooklyn, New York. 

People from the community asked Mr. Barron about books that might be available to help their children study for the New York State Regents exams. After realizing there wasn't anything available, Mr. Barron's created his own study guides.

80 years later, Barron's has helped millions of people prepare for their next step.