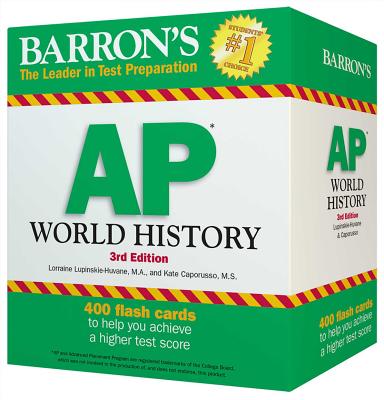 AP World History Flash Cards (Barron's Test Prep) (Cards)
Barrons Educational Series, 9781438076300, 420pp.
Publication Date: September 1, 2016
* Individual store prices may vary.
Description
Barron's AP World History Flash Cards are revised and updated to reflect the most recent changes in the AP World History curriculum. This set of 400 cards helps students review key topics and get prepared for the exam.

Each card presents a history topic on its front, with key information listed on the reverse side. Cards are divided into six major historical eras: Time Immemorial to 600 C.E., 600 to 1450, 1450 to 1750, 1750 to 1900, and 1900 to the present day. Each topic is also assigned one of six categories, further enabling students to arrange them in any order that suits their needs.

The enclosed metal ring allows students to arrange cards in any order for study on-the-go. Also included are activity cards that show teachers and students how to use flash cards for group study, which can include games, discussion, or map review.

Looking for even more practice and in-depth review? Check out Barron's AP World History: With Online Tests for even more AP exam prep.
About the Author
Lorraine Lupinskie-Huvane is the K–12 social studies director of the Half Hollow Hills School District in Dix Hills, New York. She taught the AP World History course for many years, and she has authored training materials on the teaching of high school social studies.

Kate Caporusso is a district department chairperson of the Merrick Avenue Middle School and Calhoun High School social studies departments in Merrick, New York. She taught world history for several years, and she has contributed to several projects on the teaching of high school social studies.