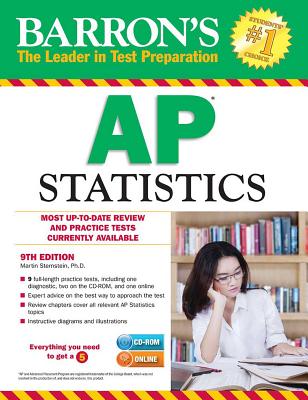 Barron's AP Statistics with CD-ROM (Paperback)
Barrons Educational Series, 9781438077123, 648pp.
Publication Date: February 1, 2017
* Individual store prices may vary.
Description
This manual's in-depth preparation for the AP Statistics exam features the 35 absolutely best AP Statistics exam hints found anywhere, and includes:
A diagnostic test and five full-length and up-to-date practice exams
All test questions answered and explained
Additional multiple-choice and free-response questions with answers
A 14-chapter subject review, covering all test topics
A new review chapter highlighting statistical insights into social issues
a new chapter on the Investigative Task, which counts as one-eighth of the exam
A guide to basic uses of TI, Casio, and HP graphing calculators
The manual includes a CD-ROM that presents two additional practice tests with automatic scoring of the multiple-choice questions.
ONLINE PRACTICE TEST:
Students who purchase this book get access to one additional full-length online AP Statistics test with all questions answered and explained.
Want to boost your studies with even more practice and in-depth review? Try Barron's Ultimate AP Statistics for even more prep.
About the Author
About The Author: Marty Sternstein is a Professor of Mathematics at Ithaca College where he has taught since 1970, except for one year as Visiting Professor and Head of the Math Department at the University of the Virgin Islands, St. Croix, and two years as Fulbright Professor and Math Department Chair at the University of Liberia in West Africa. He has written textbooks in Calculus and Statistics, has been honored with numerous teaching awards, and has developed new curricula, including an ethno-mathematics class, "Math in Africa," and the first U.S. course for college credit in chess theory. Marty has strong interests in national educational and social issues concerning equal access to math education for all.