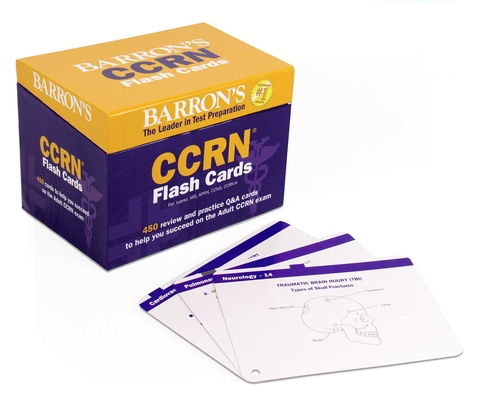 Barron's CCRN Exam Flash Cards (Cards)
Barrons Educational Series, 9781438079004, 448pp.
Publication Date: January 1, 2019
* Individual store prices may vary.
Description
Barron's CCRN Exam Flash Cards provide key concept review and practice questions for all topics on the Adult Critical Care Nursing Certification Exam.

The cards—with practice questions or review concepts on the front and answer explanations or concept descriptions on the back—include detailed subject reviews of all topics on the adult CCRN exam blueprint, including cardiovascular concepts, pulmonary concepts, neurology concepts, multisystem concepts, professional caring and ethical practices concepts, and much more.

The cards have a hole in one corner to accommodate the enclosed metal key-ring-style card holder, so students can arrange the flash cards in any sequence that suits their needs.

For full-length practice tests and even more review, check out Barron's CCRN Exam guide.
About the Author
About the Publisher
In the 1930s, Manuel H. Barron opened a bookstore in Brooklyn, New York. 

People from the community asked Mr. Barron about books that might be available to help their children study for the New York State Regents exams. After realizing there wasn't anything available, Mr. Barron's created his own study guides.

80 years later, Barron's has helped millions of people prepare for their next step.