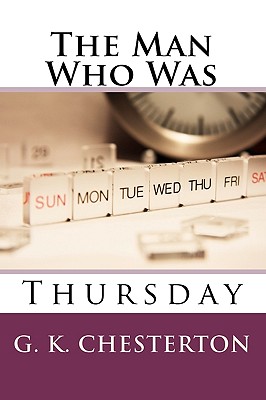 The Man Who Was Thursday (Paperback)
A Magic Lamp Classic Mystery
Createspace Independent Publishing Platform, 9781438223865, 224pp.
Publication Date: May 24, 2008
Other Editions of This Title:
Paperback (5/2/2018)
Paperback (10/23/2018)
Paperback (11/28/2017)
Paperback (9/24/2019)
Paperback (5/18/2018)
Paperback (12/25/2019)
Paperback (7/30/2008)
Paperback (4/12/2015)
Paperback (1/14/2009)
Paperback (8/8/2019)
Paperback (11/29/2019)
Paperback (5/26/2018)
Paperback (5/23/2018)
Paperback (2/8/2019)
Paperback (10/28/2017)
Paperback (10/15/2007)
* Individual store prices may vary.
Description
It is very difficult to classify "The Man Who Was Thursday." It is possible to say that it is a gripping adventure story of murderous criminals and brilliant policemen; but it was to be expected that the author of the "Father Brown" stories should tell a detective story like no-one else. On this level, therefore, "The Man Who Was Thursday" succeeds superbly; if nothing else, it is a magnificent tour-de-force of suspense-writing. However, the reader will soon discover that it is much more than that. Carried along on the boisterous rush of the narrative by Chesterton's wonderful high-spirited style. You will soon see that you are being carried into much deeper waters than you planned on; and the totally unforeseeable denouement will prove, as it has for thousands of others since 1908 when the book was first published, an inevitable and moving experience, as the investigators finally discover who Sunday is.
About the Author
Gilbert Keith Chesterton was born in London, England on the 29th of May, 1874. Though he considered himself a mere "rollicking journalist," he was actually a prolific and gifted writer in virtually every area of literature. A man of strong opinions and enormously talented at defending them, his exuberant personality nevertheless allowed him to maintain warm friendships with people--such as George Bernard Shaw and H. G. Wells--with whom he vehemently disagreed. Chesterton had no difficulty standing up for what he believed. He was one of the few journalists to oppose the Boer War. His 1922 Eugenics and Other Evils attacked what was at that time the most progressive of all ideas, the idea that the human race could and should breed a superior version of itself. In the Nazi experience, history demonstrated the wisdom of his once "reactionary" views. He is probably best known for his series about the priest-detective Father Brown who appeared in 50 stories. Chesterton died on the 14th of June, 1936 in Beaconsfield, Buckinghamshire. During his life he published 69 books and at least another ten have been published after his death. Many of those books are still in print.