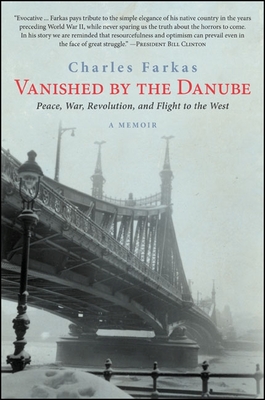 Vanished by the Danube: Peace, War, Revolution, and Flight to the West (Hardcover)
Peace, War, Revolution, and Flight to the West
Excelsior Editions/State University of New Yo, 9781438447575, 472pp.
Publication Date: July 1, 2013
* Individual store prices may vary.
or
Not Currently Available for Direct Purchase
Description
Germany's invasion of Hungary in 1944 marked the end of a culture that had dominated Central Europe from the nineteenth century to the middle of the twentieth. In this poignant memoir, Charles Farkas offers a testament to this vanished way of life--its society, morality, personal integrity, wealth, traditions, and chivalry--as well as an eyewitness account of its destruction, begun at the hands of the Nazis and then completed under the heel of Soviet Communism. Farkas's recollections of growing up in Budapest, a city whose grandeur embraced--indeed spanned--the Danube River; his vivid descriptions of everyday life in Hungary before, during, and after World War II; and his ultimate flight to freedom in the United States remind us that behind the larger historical events of the past century are the stories of the individual men and women who endured and, ultimately, survived them.
About the Author
Charles Farkas was born in 1925 in Budapest, Hungary. In 1949, he earned a double doctorate in law and political science from the University of Pazmany Peter. After the failure of the 1956 Hungarian uprising, Farkas fled to the United States, where he received a master's in library science from Columbia University. He went on to become director of the Briarcliff Manor Public Library, where he worked from 1968 until his retirement in 1996. He and his wife, Edit, live in Chappaqua, New York. They have four children and, as of early 2013, four grandchildren.
Advertisement