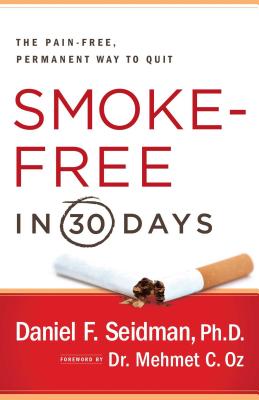 Smoke-Free in 30 Days
The Pain-Free, Permanent Way to Quit
Paperback

* Individual store prices may vary.
Other Editions of This Title:
Digital Audiobook (12/28/2009)
Description
I'M TOO STRESSED TO STOP.
I'LL GAIN WEIGHT IF I QUIT.
I'VE TRIED AND FAILED TOO MANY TIMES TO COUNT.

Why are you still smoking, even though you want to quit? Based on twenty years of research and hands-on work with countless smokers in his clinics at Columbia University and New York Presbyterian Hospital, Dr. Daniel F. Seidman understands that people smoke -- and quit -- for different reasons and what works for one smoker might not work for another.

• Are you a Situational Smoker? Monitoring your reactions in different situations is a step toward permanently losing interest in cigarettes.

• Are you a Worried-about-Weight Smoker? Properly using treatments like Nicotine Replacement Therapy (NRT) can help you quit and get healthy in all aspects of your life.

• Are you an Emotion-Triggered Smoker? Scheduling your smoking breaks and sticking to a rigid "smoking schedule" helps break the link between stressful situations and craving cigarettes.

In a comprehensive, 30-day program, Dr. Seidman explains how to retrain your brain, take advantage of all the tools at your disposal, and end the month smoke-free and feeling stronger than ever!
Praise For Smoke-Free in 30 Days: The Pain-Free, Permanent Way to Quit…
"Give this book to someone you care about who would like to quit but feels he can't. You couldn't give a more important present." -- Steven A. Schroeder, M.D., Director of the Smoking Cessation Leadership Center at the University of California, San Francisco
Touchstone, 9781439101117, 240pp.
Publication Date: December 29, 2009
About the Author
Daniel F. Seidman, Ph.D., is the director of the smoking cessation service at Columbia University Medical Center whose revolutionary techniques for quitting have been featured on Oprah, in The Wall Street Journal, and RealAge.com.

Mehmet Oz, MD, is a cardiothoracic surgeon. He has won nine Daytime Emmy Awards for The Dr. Oz Show. A professor of surgery at Columbia University, he directs the Complementary Medicine Program at New York—Presbyterian Hospital and performs more than fifty heart operations a year. Dr. Oz has written eight New York Times bestselling books, including Food Can Fix It, YOU: The Owner's Manual, YOU: The Smart Patient, YOU: On a Diet, YOU: Staying Young, and the award-winning Healing from the Heart.