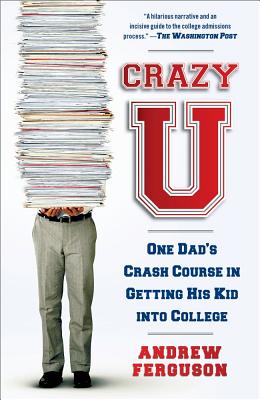 Crazy U (Paperback)
One Dad's Crash Course in Getting His Kid Into College
Simon & Schuster, 9781439101223, 228pp.
Publication Date: February 14, 2012
* Individual store prices may vary.
Description
Now in paperback: "Both a hilarious narrative and an incisive guide to the college admissions process....Ferguson's storytelling is irresistible" (The Washington Post). Once a straightforward process, applying to college has evolved into a multi-year ordeal and spawned a multi-billion dollar cottage industry of freelance counselors, tutors, essay coaches, interview advisers, and political activists. In Crazy U, Ferguson spends time with the most sought-after private counselor, provides a pocket history of higher education in America, looks at the growth of the college marketing industry, and asks: Why the hell does college cost so much, and how can my kid get in? Writing with humor and humility, Ferguson chronicles his perilous journey through this seemingly impenetrable, hall-of-mirrors process where, it seems, even the slightest misstep could derail his son's future. Crazy U doesn't divulge the secrets of getting accepted to a dream school, but it will help readers maintain a measure of sanity as they enter the trenches of college admissions.
About the Author
Andrew Ferguson, a senior editor at the Weekly Standard and a columnist for Bloomberg News, is the author of Land of Lincoln and Fools' Names, Fools' Faces, a collection of his essays. He lives in Arlington, Virginia.
Praise For Crazy U: One Dad's Crash Course in Getting His Kid Into College…
"A laugh-until-your-ribs-squeak book."
—George Will



"Compulsively readable, unusually vivid . . . The most darkly humorous aspect of this often hilarious book is its depiction of an admissions process that corrupts everything it touches."
—Daniel Akst, The Wall Street Journal



"In Crazy U, Ferguson is at his dazzling best, using humor and narrative as portals to very serious subjects. The book is both a hilarious chronicle of his 18-month ordeal helping his not-always-cooperative son apply to college and a devastating exposé of the buying and selling of higher education in America."
—Christina Hoff Summers, National Review