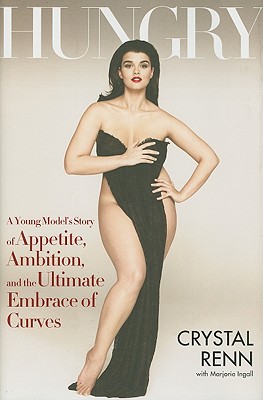 Hungry (Hardcover)
A Young Model's Story of Appetite, Ambition and the Ultimate Embrace of Curves
Simon & Schuster, 9781439101230, 256pp.
Publication Date: September 8, 2009
Other Editions of This Title:
Paperback (6/1/2010)
* Individual store prices may vary.
Description
At fourteen, I was a regular junior high school student in Clinton, Mississippi, when a modeling scout told me: You could be a supermodel. And then: But you'll have to lose a little weight. For glamour, fame, and escape, I lost 70 pounds.
This is a photo of me at sixteen, when I signed a big modeling contract, moved to New York City, and started traveling around the world. It is also when I developed a ferocious case of anorexia and exercise bulimia, and began to lose my hair, develop frequent bruises, and experience frequent heart palpitations. And still my body refused to remain a size zero. As my weight rebelled, my mania escalated. I experimented with diet drugs and fainted between casting calls, slumping to the sidewalk of Madison Avenue.
Until one day I realized that if I wanted to live, I could no longer starve. I had to get off the crazy-making treadmill. I had to nourish my body and feed my soul. So I ate. And ate. And I returned to my natural size 12 -- the size of the average American and the size I was when I really made it big.
This is a photo of me at eighteen, when I became one of the most successful models in the industry today.
Hungry charts the rise, fall, and rise of Crystal Renn, offering a behind-the-scenes peek into the modeling industry, as well as a trenchant look at our weight-obsessed culture. In this testament to the power of authenticity, Renn illustrates the ways in which the fashion industry is slowly changing and exposes the cold truths about size and sizeism.
An inspiring and cautionary tale, Hungry will resonate with anyone who has battled society's small-minded definitions of beauty.
or
Not Currently Available for Direct Purchase