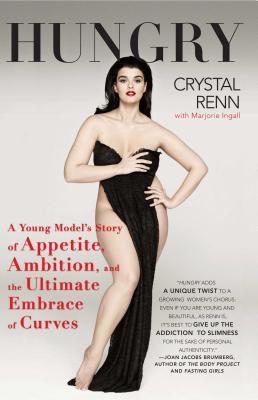 Hungry (Paperback)
A Young Model's Story of Appetite, Ambition, and the Ultimate Embrace of Curves
Simon & Schuster, 9781439101247, 256pp.
Publication Date: June 1, 2010
Other Editions of This Title:
Hardcover (9/8/2009)
* Individual store prices may vary.
Description
Now available in paperback, Hungry is an uplifting memoir with a universal message about body image, beauty, and self-confidence, and an inspiring, cautionary tale for women of all ages.

At fourteen, I was a regular junior high school student in Clinton, Mississippi, when a modeling scout told me: You could be a supermodel...but you'll have to lose a little weight.

For glamour, fame, and escape, I lost seventy pounds.

This is a photo of me at sixteen, when I signed a big modeling contract, moved to New York City, and started traveling around the world.

It is also when I developed a ferocious case of anorexia and exercise bulimia.

Until I decided enough was enough—I wanted to live.

And so I ate. And ate.

Offering a behind-the-scenes peek into the modeling industry, as well as a trenchant look at our weight-obsessed culture, Hungry is an inspiring and cautionary tale that will resonate with anyone who has battled society's small-minded definitions of beauty.

This is me now, the leading plus-size model in America.
About the Author
Crystal Renn is the leading plus-size model in America. At twenty-two years of age, she has appeared in four international editions of Vogue; starred in a Dolce & Gabbana ad campaign; served as the final model in Jean-Paul Gaultier's Spring pret-a-porter show in a diaphanous, flower-strewn gown that Gaultier designed specifically for her curvaceous figure; was the cover girl on an international edition of Harper's Bazaar; appeared on The Tyra Banks Show, The View and The Oprah Winfrey Show; and has been photographed by Steven Meisel, Ellen von Unwerth, Steven Meisel, Ruven Afanador and Patrick Demarchelier. Renn lives in Brooklyn.

Marjorie Ingall is a contributing writer at Self magazine and a columnist for The Forward. She has written for many other magazines, including The New York Times, Glamour, Redbook, Seventeen, Ms., Food & Wine, Wired, and the late, lamented Sassy, where she was the senior writer and health editor. At Sassy, she won several awards for health and social issues coverage. She is the author of The Field Guild to North American Males, the co-author of a sex-ed book for teenagers, Smart Sex and a former writer/producer at the Oxygen TV network.
Praise For Hungry: A Young Model's Story of Appetite, Ambition, and the Ultimate Embrace of Curves…
"A riveting read." -- Nigella Lawson



"An eye-opening tale for all women, Hungry explores the difference between the fantasy that society projects and the reality of what makes us happy. Crystal Renn's experience debunks the modern-day Cinderella story of the fat girl who loses weight to get happy. This is a new fairy tale, one in which a young woman embraces the size she's supposed to be and the world opens up for her." -- Lori Gottlieb, author of Stick Figure: A Diary of My Former Self



"Crystal Renn is a high-spirited, convincing spokesperson for broadening our notions of beauty. Hungry adds a unique twist to a growing women's chorus: even if you are young and beautiful, as Renn is, it's best to give up the addiction to slimness for the sake of personal authenticity, social relations, intimacy, and sexual pleasure." -- Joan Jacobs Brumberg, author of The Body Project and Fasting Girls



"Hungry offers an intelligent and intimate look inside the modeling industry and into Crystal Renn's heart. Renn's epiphany -- that she didn't have to be a size 0 to find success and happiness -- serves as a more powerful portrait of strength and beauty than anything a camera could capture." -- Wendy Shanker, author of The Fat Girl's Guide to Life