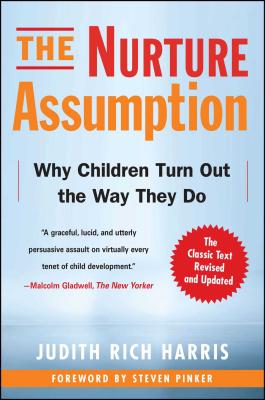 The Nurture Assumption (Paperback)
Why Children Turn Out the Way They Do, Revised and Updated
Free Press, 9781439101650, 480pp.
Publication Date: February 24, 2009
Other Editions of This Title:
Paperback (9/14/1999)
Hardcover (1/1/1998)
* Individual store prices may vary.
Description
This groundbreaking book, a Pulitzer Prize finalist and New York Times notable pick, rattled the psychological establishment when it was first published in 1998 by claiming that parents have little impact on their children's development. In this tenth anniversary edition of The Nurture Assumption, Judith Harris has updated material throughout and provided a fresh introduction.

Combining insights from psychology, sociology, anthropology, primatology, and evolutionary biology, she explains how and why the tendency of children to take cues from their peers works to their evolutionary advantage. This electrifying book explodes many of our unquestioned beliefs about children and parents and gives us a radically new view of childhood.
About the Author
Judith Rich Harris is the author of No Two Alike: Human Nature and Human Individuality . A former writer of college textbooks, Harris is a recipient of a George A. Miller award, given to the author of an outstanding article in psychology. She is an independent investigator and theoretician whose interests include evolutionary psychology, social psychology, developmental psychology, and behavioral genetics.
Praise For The Nurture Assumption: Why Children Turn Out the Way They Do, Revised and Updated…
"A graceful, lucid, and utterly persuasive assault on virtually every tenet of child development." -- Malcolm Gladwell, The New Yorker

"Ten years on, this book stands as a landmark in the history of psychology -- and a cracking good read." -- Steven Pinker