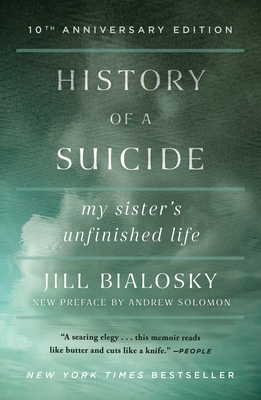 History of a Suicide
My Sister's Unfinished Life
Paperback

* Individual store prices may vary.
Description
In this New York Times bestseller, Jill Bialosky, poet and author, undergoes "a profound and lyrical investigation" (New York magazine) as she attempts to understand the events and emotional state that led her sister to commit suicide and the impact of her death on family and loved ones.

On April 15, 1990, Kim, Jill Bialosky's younger sister, arrived home from a bar after a fight with her boyfriend. She took her mother's keys, went into the closed garage, and turned on the ignition. Her body was discovered the next morning by a neighborhood boy.

For decades, Bialosky has grappled with the guilt, questions, and devastation that was unloosed by Kim's suicide. Now, in this remarkable memoir, she attempts to reconstruct the complex inner life of her sister and in doing so, unlocks the nature of suicide itself and how we are each deeply affected by it.

In the course of trying to understand what drove her sister that night, Bialosky examines some of the most fundamental questions of human nature—why some of us more emotionally stable than others, even when raised in the same circumstances; how the unconscious shape our identities; what the difference is between depression and suicidal feelings; and why we sometimes fail to love and protect one another.

Combining Kim's own personal writings with family history, medical reportage, literary criticism, and research, Bialosky has crafted "an extraordinarily valiant and resonant testimony to the healing powers of truth and empathy" (Booklist).
Praise For History of a Suicide: My Sister's Unfinished Life…
"Valiant and eloquent…Bialosky's thoughtful book elucidates the complexity of suicide." ­­­­
—Washington Post Book World



"A searing elegy…this memoir reads like butter and cuts like a knife."
—People (4 star review)



"A tender, absorbing, and deeply moving memoir...[Bialosky] writes so gracefully and bravely that what you're left with in the end is an overwhelming sense of love."
—Entertainment Weekly



"Extraordinarily useful...a source of solace and understanding…. [Bialosky's] hand is always skillful, as attentive to the rhythms of storytelling as to conveying emotion."
—Time



"A profound and lyrical investigation…Bialosky writes sensitively and beautifully." ­­­­
—New York Magazine



"Brave and beautifully crafted."
—The Daily Beast



"An extraordinarily valiant and resonant testimony to the healing powers of truth and empathy."
—Booklist



"A beautifully composed, deeply reflective work."
—Publishers Weekly



"In quietly piercing language, [Bialosky] delivers a sure sense of a 'beautiful girl' who took her own life at age 21 and of what it means to grieve such a death, burdened with an awful sense of responsibility that can't easily be shared with others."
—Library Journal



"This is the kind of book that can teach us—all of us—about what it means to be a thinking, feeling human being. A book, in other words, that will teach you how to live."
—Darin Strauss, author of Half a Life
Washington Square Press, 9781439101940, 272pp.
Publication Date: February 7, 2012
About the Author
Jill Bialosky is the author of four acclaimed collections of poetry. Her poems have appeared in The New Yorker, The New York Times, and The Atlantic, among others. She is the author of several books, including History of a Suicide, Asylum, and Poetry Will Save Your Life. In 2015, Jill was honored by the Poetry Society of America for her distinguished contribution to the field of poetry. She lives in New York City. Find out more at JillBialosky.com.