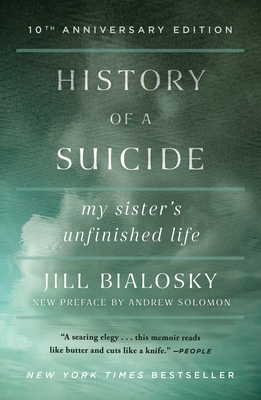 History of a Suicide
My Sister's Unfinished Life
Paperback

* Individual store prices may vary.
Other Editions of This Title:
Hardcover (2/15/2011)
Description
From acclaimed poet and novelist Jill Bialosky, the New York Times bestselling exploration of her sister's suicide and the lifelong impact it had on those left behind—"a beautifully composed, deeply reflective work" (Publishers Weekly).

"It is so nice to be happy. It always gives me a good feeling to see other people happy…It is so easy to achieve." —Kim's journal entry, May 3, 1988

On the night of April 15, 1990, Jill Bialosky's twenty-one-year-old sister Kim came home from a bar in downtown Cleveland. She argued with her boyfriend on the phone. Then she took her mother's car keys, went into the garage, closed the garage door. She climbed into the car, turned on the ignition, and fell asleep. Her body was found the next morning by the neighborhood boy her mother hired to cut the grass.

Those are the simple facts, but the act of suicide is anything but simple. For twenty years, Bialosky has lived with the grief, guilt, questions, and confusion unleashed by Kim's suicide. Now, in a remarkable work of literary nonfiction, she re-creates with unsparing honesty her sister's inner life, the events and emotions that led her to take her life on this particular night. In doing so, she opens a window on the nature of suicide itself, our own reactions and responses to it—especially the impact a suicide has on those who remain behind.

Combining Kim's diaries with family history and memoir, drawing on the works of doctors and psychologists as well as writers from Melville and Dickinson to Sylvia Plath and Wallace Stevens, Bialosky gives us a stunning exploration of human fragility and strength. She juxtaposes the story of Kim's death with the challenges of becoming a mother and her own exuberant experience of raising a son. This is a book that explores all aspects of our familial relationships—between mothers and sons, fathers and daughters—but particularly the tender and enduring bonds between sisters.

History of a Suicide brings a crucial and all too rarely discussed subject out of the shadows, and in doing so gives readers the courage to face their own losses, no matter what those may be. This searing and compassionate work reminds us of the preciousness of life and of the ways in which those we love are inextricably bound to us.
Praise For History of a Suicide: My Sister's Unfinished Life…
"Valiant and eloquent…Bialosky's thoughtful book elucidates the complexity of suicide." ­­­­
—Washington Post Book World



"A searing elegy…this memoir reads like butter and cuts like a knife."
—People (4 star review)



"A tender, absorbing, and deeply moving memoir...[Bialosky] writes so gracefully and bravely that what you're left with in the end is an overwhelming sense of love."
—Entertainment Weekly



"Extraordinarily useful...a source of solace and understanding…. [Bialosky's] hand is always skillful, as attentive to the rhythms of storytelling as to conveying emotion."
—Time



"A profound and lyrical investigation…Bialosky writes sensitively and beautifully." ­­­­
—New York Magazine



"Brave and beautifully crafted."
—The Daily Beast



"An extraordinarily valiant and resonant testimony to the healing powers of truth and empathy."
—Booklist



"A beautifully composed, deeply reflective work."
—Publishers Weekly



"In quietly piercing language, [Bialosky] delivers a sure sense of a 'beautiful girl' who took her own life at age 21 and of what it means to grieve such a death, burdened with an awful sense of responsibility that can't easily be shared with others."
—Library Journal



"This is the kind of book that can teach us—all of us—about what it means to be a thinking, feeling human being. A book, in other words, that will teach you how to live."
—Darin Strauss, author of Half a Life
Washington Square Press, 9781439101940, 272pp.
Publication Date: February 7, 2012
About the Author
Jill Bialosky is the author of four acclaimed collections of poetry. Her poems have appeared in The New Yorker, The New York Times, The Kenyon Review, and The Atlantic, among others. She is the author of three novels, most recently, The Prize, and a New York Times bestselling memoir History of a Suicide: My Sister's Unfinished Life. Jill was honored by the Poetry Society of America for her distinguished contribution to the field of poetry in 2015. She is an editor at W. W. Norton & Company and lives in New York City.