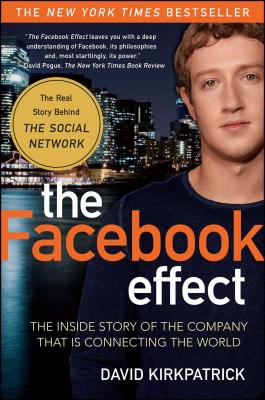 The Facebook Effect
The Inside Story of the Company That Is Connecting the World
Paperback

* Individual store prices may vary.
Other Editions of This Title:
Hardcover (6/8/2010)
Paperback (1/1/2011)
Paperback (3/1/2011)
Paperback (2/1/2011)
Description
The exclusive inside story of Facebook and how it has revolutionized the way the world uses the Internet. "A fantastic book, filled with great reporting and colorful narrative" (Walter Isaacson).

In little more than half a decade, Facebook has gone from a dorm-room novelty to a company with 500 million users. It is one of the fastest growing companies in history, an essential part of the social life not only of teenagers but hundreds of millions of adults worldwide. As Facebook spreads around the globe, it creates surprising effects—even becoming instrumental in political protests from Colombia to Iran.

Veteran technology reporter David Kirkpatrick had the full cooperation of Facebook's key executives in researching this fascinating history of the company and its impact on our lives. Kirkpatrick tells us how Facebook was created, why it has flourished, and where it is going next. He chronicles its successes and missteps, and gives readers the most complete assessment anywhere of founder and CEO Mark Zuckerberg, the central figure in the company's remarkable ascent. This is the Facebook story that can be found nowhere else.

How did a nineteen-year-old Harvard student create a company that has transformed the Internet and how did he grow it to its current enormous size? Kirkpatrick shows how Zuckerberg steadfastly refused to compromise his vision, insistently focusing on growth over profits and preaching that Facebook must dominate (his word) communication on the Internet. In the process, he and a small group of key executives have created a company that has changed social life in the United States and elsewhere, a company that has become a ubiquitous presence in marketing, altering politics, business, and even our sense of our own identity. This is the Facebook Effect.
Praise For The Facebook Effect: The Inside Story of the Company That Is Connecting the World…
"This is a fantastic book, filled with great reporting and colorful narrative. The human drama of Mark Zuckerberg and his colleagues gives an exciting glimpse of how to launch a game-changing startup."
--Walter Isaacson, author of Einstein: His Life and Universe




"Kirkpatrick's amazing reporting details what happens when a hacker culture turns into a multi-billion-dollar firm. Mark Zuckerberg sought to maintain that hacker energy, and it 's fascinating to read what resulted."
--Chris Anderson, editor of Wired and author of The Long Tail



"A thoughtful, even-handed analysis of the Web site's impact. . . . The Facebook Effect leaves you with a deep understanding of Facebook, its philosophies and, most startlingly, its power."
--David Pogue, The New York Times Book Review




"The Facebook Effect is actually two books in one. One part is the exhaustively reported story of Facebook's founding and meteoric rise to near ubiquity; the other is a thoughtful analysis of its impact."
--Ethan Gilsdorf, The Boston Globe



"Engrossing. . . . A detailed and scrupulously fair history of [Facebook]."
--Rich Jaroslovsky, Bloomberg Businessweek




"Kirkpatrick gives the reader a detailed understanding of how the company grew from a 2004 Harvard dorm-room project into the world's second-most-visited site after Google."
--Michiko Kakutani, The New York Times




"A fascinating book."
--Dan Fletcher, Time




"Kirkpatrick's telling of the early days of Facebook is exciting. . . . His reporting skills are impressive."
--Rachel Metz, Associated Press



"Fast-paced. . . . makes for gripping reading."
--G. Pascal Zachary, The San Francisco Chronicle



"Kirkpatrick tells a gripping tale of how the company was created and came to such dominance. As someone who followed the story almost from day one, I was still enlightened, entertained and sometimes dumbfounded by the rich detail and juicy goings-on."
—Don Tapscott, The Globe and Mail (Toronto)
Simon & Schuster, 9781439102121, 384pp.
Publication Date: February 1, 2011
About the Author
David Kirkpatrick was for many years the senior editor for Internet and technology at Fortune magazine. While at Fortune, he wrote cover stories about Apple, IBM, Intel, Microsoft, Sun, and numerous other technology subjects. Beginning in 2001, he created Fortune's Brainstorm conference series. More recently, he organized the Techonomy conference on the centrality of technology innovation for all human activity. He is a member of the Council on Foreign Relations and appears frequently on television, radio, and the Internet as an expert on technology.
Book Videos