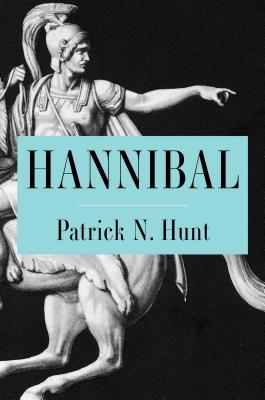 Hannibal
Hardcover

* Individual store prices may vary.
Other Editions of This Title:
Digital Audiobook (12/24/2018)
Paperback (7/3/2018)
Description
One of the greatest commanders of the ancient world brought vividly to life: Hannibal, the brilliant general who successfully crossed the Alps with his war elephants and brought Rome to its knees.

Hannibal Barca of Carthage, born 247 BC, was one of the great generals of the ancient world. His father, Hamilcar, was also a great strategist and master tactician who imposed Carthaginian rule over much of present-day Spain. After Hamilcar led the Carthaginian forces against Rome in the First Punic War, Hannibal followed in his father's footsteps, leading Carthage in the Second Punic War.

From the time he was a teenager, Hannibal fought against Rome. He is famed for leading Carthage's army across north Africa, into Spain, along the Mediterranean coast, and then crossing the Alps with his army and war elephants. Hannibal won victories in northern Italy by outmaneuvering his Roman adversaries and defeated a larger Roman army at the battle of Cannae in 216 BC. Unable to force Rome to capitulate, he was eventually forced to leave Italy and return to Carthage when a savvy Roman general named Scipio invaded north Africa. Hannibal and Scipio fought an epic battle at Zama, which Hannibal lost. The terms of surrender were harsh and many Carthaginians blamed Hannibal, eventually forcing him into exile until his death.

To this day Hannibal is still regarded as a military genius. Napoleon, George Patton, and Norman Schwarzkopf, Jr. are only some of the generals who studied and admired him. His strategy and tactics are still taught in military academies. He is one of the figures of the ancient world whose life and exploits never fail to impress. Historian Patrick N. Hunt has led archeological expeditions in the Alps and elsewhere to study Hannibal's achievements. Now he brings Hannibal's incredible story to life in this riveting and dramatic book.
Praise For Hannibal…
"Patrick Hunt's Hannibal is a rare combination of impeccable scholarship and good writing. Knowing what the author knows, this biography could have been 900 pages long; instead it hits the scales at below 300, the perfect fighting weight for one of history's most lethal combatants."
— Robert L. O'Connell, author of The Ghosts of Cannae

"The book is particularly illuminating in discussing Hannibal's famous crossing of the Alps in 218 B.C. . . . Hunt excels in his descriptions of battles."
— Thomas E. Ricks

"An exciting biography of one of history's greatest commanders. . . . A thrilling page-turner about one of history's most brilliant strategists and tacticians."
— Kirkus Reviews (starred review)

"Patrick Hunt is one of the world's greatest experts on Hannibal. He brings that magnificent commander to life, with verve and in detail, in this wonderful book. Hannibal is must reading for all students of military history."
— Barry Strauss, Cornell University, author of The Death of Caesar: The Story of History's Most Famous Assassination

"From opening anecdote to closing argument, Hunt's biography engages fully with both Hannibal the legend and Hannibal the man—telling us what can and should be known about the man while acknowledging the ambiguities and contradictions of the legend. Was Hannibal a military genius or a lucky gambler, a self-propelled comet or the instrument of fate, a figure of terror or of pathos? All of these, and much more."
— Steven Saylor, author of the New York Times bestseller Roma: The Novel of Ancient Rome

"Even after the passage of more than two thousand years, Hannibal's bold exploits, above all in Italy, challenging Rome to a duel in her own back yard, capture the imagination. Patrick Hunt, who has for decades been researching Hannibal, including much personal fieldwork on the ground retracing Hannibal's footsteps, distills a lifetime's knowledge and experience in this lively and compelling narrative."
— Professor Roger J. A. Wilson, director, Centre for the Study of Ancient Sicily, University of British Columbia

"Hannibal relates the famous general's story with wonderful energy. . . . Archeologist and historian Patrick Hunt distills his survey of literature about the Second Punic War into a brightly dramatic story that covers virtually every anecdote connected with Hannibal."
— The Christian Science Monitor

"Hannibal, thoroughly researched and written in an engaging style, tells the story of this remarkable military strategist. Over the past 25 years, Patrick Hunt has walked every battlefield and trekked over 30 of the probable Alps passes that Hannibal may have used. . . . The reader is treated to a 'you are there,' action-packed historical adventure."
— Major General Robert B. Ostenberg, U.S. Army (Ret.)

"The military history is thorough and balanced. . . . Drawing on both ancient and modern scholarship, this book is accessible for the nonspecialist; military history buffs will enjoy."
— Library Journal

"The flourishes that make Hunt a popular on-air personality shine through. . . . . Hunt's story of the doomed general, whose exploits are more celebrated than those of his vanquishers, will appeal to any reader interested in military history or strategy."
— Publishers Weekly

"Engrossing . . . ideal for general readers with an interest in ancient history."
— Booklist
Simon & Schuster, 9781439102176, 384pp.
Publication Date: July 11, 2017
About the Author
Patrick N. Hunt is an archeologist, historian, and biographer who has taught humanities, archeology, and mythology at Stanford University since 1993. A Fellow of the Royal Geographical Society in London, Hunt has been featured on TV documentaries, including National Geographic Explorer, Nova, and the Discovery Channel. He is also a National Geographic Expeditions expert. Articles about his Hannibal research have appeared in National Geographic, Archaeology Magazine, and Earth magazine among others. He is the author of Hannibal, Ten Discoveries That Rewrote History, and When Empires Clash: Twelve Great Battles in Antiquity, among other books. He lives in the Bay Area, California.
or
Not Currently Available for Direct Purchase