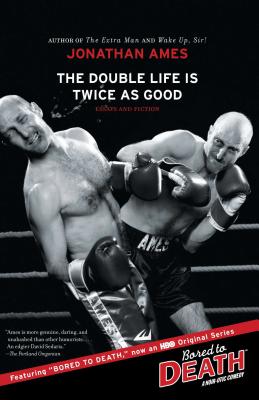 The Double Life Is Twice as Good (Paperback)
Scribner Book Company, 9781439102336, 213pp.
Publication Date: July 14, 2009
* Individual store prices may vary.
Description
Wildly original novelist, essayist, and performance artist Jonathan Aames delivers his best collection yet--a hilarious, risqu , and loveable selection of articles, essays, and fiction, including several previously unpublished pieces.With an HBO pilot based on this collection's centerpiece ("Bored to Death"), his two hilarious novels, The Extra Man and Wake Up, Sir , in development as films (with screenplays by Mr. Ames), a critically acclaimed graphic novel, The Alcoholic, under his belt, and an ongoing series of literary and not-so-literary stunts, Jonathan Ames has proven himself to be a writer of diverse and stunning talents. In The Double Life Is Twice as Good, fans will be treated to a deft and charming compilation of Ames's journalism, personal essays, and short fiction. Featuring illuminating profiles of Marilyn Manson and Lenny Kravitz, his adventures at a goth festival in the Midwest, a story written for Esquire on a napkin, as well as a comic strip collaboration with graphic artist Nick Bertozzi, Ames's unique style and personality-driven humor shines throughout this wickedly funny collection. Also included is the aforementioned short story, "Bored to Death," a Raymond Chandler-esque tale about a struggling writer-turned-detective who becomes quickly embroiled in the search for a missing college co-ed. Described by The Portland Oregonian as "an edgier David Sedaris," it's no wonder that this comic mastermind's already fervent and dedicated fanbase is continually growing.
About the Author
Jonathan Ames is also the author of I Pass Like Night, The Extra Man, What's Not to Love?, My Less Than Secret Life, Wake Up, Sir!, I Love You More Than You Know, and The Alcoholic. He is the editor of Sexual Metamorphosis: An Anthology of Transsexual Memoirs and is the winner of a Guggenheim Fellowship. He has had two amateur box- ing matches, fighting as "The Herring Wonder" and lives in Brooklyn, New York.
Praise For The Double Life Is Twice as Good…
"Bizarrely disparate: The topics range from prostitution to goth to tennis, but in Ames's capable hands the disparity works." -- Penthouse



"This hilarious, often harrowing compendium of articles and essays find [Ames] immersed in demented endeavors...certain to make his many fans snicker and squirm." -- Booklist



"Filled with its share of Ames classics." -- Kirkus Reviews