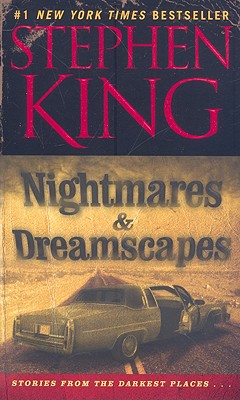 Nightmares & Dreamscapes (Mass Market Paperbound)
Pocket Books, 9781439102565, 897pp.
Publication Date: June 30, 2009
Description
The classic short story collection from #1 New York Times bestselling author Stephen King A wrong turn on a lonely road lands a wayward couple in Rock and Roll Heaven, Oregon, where there's no escaping the free nightly concert....A novelty toy becomes an unexpected and terrifying instrument of self-defense....An ex-con pieces together a map to unearth a stolen million dollars--but at what price?...A private investigator in Depression-era Los Angeles is finding his life unraveling as he discovers the shocking truth of who he really is....A third-grade teacher is willing to dig deep in order to exact revenge for his murdered wife.... These are just some of the haunting scenarios to be found in this classic collection--spellbinding tales from the darkest places and the unparalleled imagination of fiction's master storyteller. Stories include:
-Dolan's Cadillac
-The End of the Whole Mess
-Suffer the Little Children
-The Night Flier
-Popsy
-It Grows on You
-Chattery Teeth
-Dedication
-The Moving Finger
-Sneakers
-You Know They Got a Hell of a Band
-Home Delivery
-Rainy Season
-My Pretty Pony
-Sorry, Right Number
-The Ten O'Clock People
-Crouch End
-The House on Maple Street
-The Fifth Quarter
-The Doctor's Case
-Umney's Last Case
-Head Down
-Brooklyn August.
About the Author
Stephen King is the author of more than forty books, all of them worldwide bestsellers. Among his most recent are Just After Sunset, Duma Key, Blaze, Lisey's Story, Cell, Dark Tower VII: Dark Tower, Dreamcatcher, On Writing, Hearts in Atlantis, From a Buick 8, The Girl Who Loved Tom Gordon, Bag of Bones, and The Green Mile. He lives in Maine, with his wife, novelist Tabitha King.
Advertisement