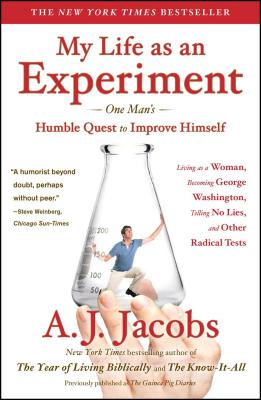 My Life as an Experiment
One Man's Humble Quest to Improve Himself by Living as a Woman, Becoming George Washington, Telling No Lies, and Other Radical Tests
Paperback

* Individual store prices may vary.
Other Editions of This Title:
Digital Audiobook (7/12/2010)
Description
A collection of A.J. Jacobs's hilarious adventures as a human guinea pig, including "My Outsourced Life," "The Truth About Nakedness," and a never-before-published essay.

One man. Ten extraordinary quests.

Bestselling author and human guinea pig A.J. Jacobs puts his life to the test and reports on the surprising and entertaining results. He goes undercover as a woman, lives by George Washington's moral code, and impersonates a movie star. He practices "radical honesty," brushes his teeth with the world's most rational toothpaste, and outsources every part of his life to India—including reading bedtime stories to his kids.

And in a new adventure, Jacobs undergoes scientific testing to determine how he can put his wife through these and other life-altering experiments—one of which involves public nudity.

Filled with humor and wisdom, My Life as an Experiment will immerse you in eye-opening situations and change the way you think about the big issues of our time—from love and work to national politics and breakfast cereal.
Praise For My Life as an Experiment: One Man's Humble Quest to Improve Himself by Living as a Woman, Becoming George Washington, Telling No Lies, and Other Radical Tests…
"Jacobs' experiments are about understanding oneself, making life more interesting and showing the reader a good time. And I love them for it."—San Francisco Chronicle

"Both laugh-out-loud funny and enlightening." —People


"Inspired and inspiring."—Vanity Fair

"Off-the-wall and uproarious."—Publishers Weekly

"The virtuoso of this self-as-guinea pig genre."—Brad Tuttle, Time

"We love reading about the lifestyle experiments of author A.J. Jacobs."—Entertainment Weekly

"Both laugh-out-loud funny and enlightening."—People

"Over the years, [Jacobs' experiments] have grown more complex and deeper in potential meaning. Not to mention funnier and funnier."—The Kansas City Star

"[T]he most enlightening moments are driven by his honesty, his sense of humor, and his willingness to constantly challenge his ingrained assumptions.... Hilarity, and quite a bit of learning, ensue.... In [My Life as an Experiment], he once again achieves a rare literary balance–an intellectual study of human behavior that will make readers laugh out loud or, in the more daring cases, inspire them to try one of these experiments for themselves."—Providence Journal

"He's not just in it for the yuks–though there are plenty of yuks. (He's very funny.) He has a curious, questioning mind and is always looking for larger meaning.... [My Live as an Experiment] is intelligent, insightful shtick."—Minneapolis Star-Tribune

"[My Life as an Experiment] is as funny and instructive as memoir can get."—The Knoxville News-Sentinel

"Immersive journalism' is a popular trope these days and Esquire editor A. J. Jacobs is one of its most entertaining adherents, performing a public service with his quest for knowledge in his latest book, [My Life as an Experiment].... His experiments, alternately Herculean and banal, are emblematic of how difficult it is in this modern age to find enlightenment; 'know thyself' regularly brushes up against the cold, rocky bottom of daily life."—LA Weekly

"Jacobs... could be the funniest nonfiction writer this side of Bill Bryson.... The experiments themselves are fascinating and lead to genuinely surprising conclusions... and Jacobs storytelling is lighthearted and frequently laugh-out-loud funny.... There aren't a lot of nonfiction books you want to read over and over, but this is certainly one of them."—Booklist (starred review)

"Jacobs continues his unique brand of immersion journalism... [and] his style is crisp and often laugh-out-loud funny.... [An] endearing and nimble look at how pursuing absurd extremes can illuminate the more mundane aspects of contemporary existence."—Kirkus Reviews
Simon & Schuster, 9781439104996, 272pp.
Publication Date: July 13, 2010
About the Author
A.J. Jacobs is the author of Thanks a Thousand, It's All Relative, Drop Dead Healthy, and the New York Times bestsellers The Know-It-All, The Year of Living Biblically, and My Life as an Experiment. He is a contributor to NPR, and has written for The New York Times, The Washington Post, and Entertainment Weekly. He lives in New York City with his wife and kids. Visit him at AJJacobs.com and follow him on Twitter @ajjacobs.