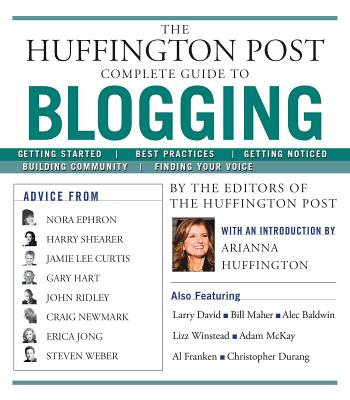 The Huffington Post Complete Guide to Blogging
Paperback

* Individual store prices may vary.
Description
The editors of The Huffington Post -- the most linked-to blog on the web -- offer an A-Z guide to all things blog, with information for everyone from the tech-challenged newbie looking to get a handle on this new way of communicating to the experienced blogger looking to break through the clutter of the Internet. With an introduction by Arianna Huffington, the site's cofounder and editor in chief, this book is everything you want to know about blogging, but didn't know who to ask.

As entertaining as it is informative, The Huffington Post Complete Guide to Blogging will show you what to do to get your blog started. You'll find tools to help you build your blog, strategies to create your community, tips on finding your voice, and entertaining anecdotes from HuffPost bloggers that will make you wonder what took you so long to blog in the first place.

The Guide also includes choice selections from HuffPost's wide-ranging mix of top-notch bloggers. Among those who have blogged on HuffPost are Barack Obama, Hillary Clinton, Larry David, Jane Smiley, Bill Maher, Nora Ephron, Jon Robin Baitz, Steve Martin, Lawrence O'Donnell, Ari Emanuel, Mia Farrow, Al Franken, Gary Hart, Barbara Ehrenreich, Edward Kennedy, Harry Shearer, Nancy Pelosi, Adam McKay, John Ridley, and Alec Baldwin.
Praise For The Huffington Post Complete Guide to Blogging…
"...capture(s) all of the excitement of the blogosphere, enabling the would-be blogger to take a confident step online....A must read for blog newbies." -- Andrea Sachs, Time Magazine
Simon & Schuster, 9781439105009, 240pp.
Publication Date: December 2, 2008
About the Author
The Huffington Post -- "The Internet Newspaper" -- was founded by Arianna Huffington and Kenneth Lerer in May, 2005, and quickly took the Internet by storm. The Huffington Post offers extensive coverage of politics, media, business, entertainment, living, and "green." Its 24-hours news coverage regularly publishes scoops and is well-known for its high-profile contributors, including Barack Obama, Hillary Clinton, Welsey Clark, Ari Emanuel, Nora Ephron, Mia Farrow, Al Franken, Gary Hart, Edward Kennedy, John Kerry, Bill Maher, Nancy Pelosi, John Ridley, Margaret Cho, Harry Shearer, and Alec Baldwin. The Huffington Post is a two time winner of the Webby Award for Best Political Blog. The Huffington Post is successful with an audience that is affluent, influential, educated, and tech-savvy.

Arianna Huffington is an author, syndicated columnist, and businesswoman. Named on Time Magazine's list of 100 most influential people and Forbes Most Powerful Women, Huffington is a co-founder of The Huffington Post and the founder and CEO of Thrive Global.