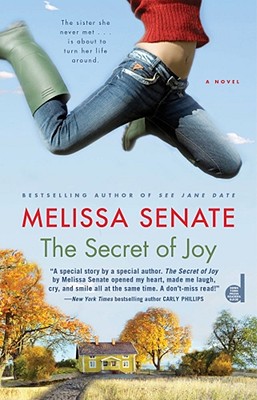 The Secret of Joy
Paperback

* Individual store prices may vary.
Description
IS THE HALF SISTER THAT REBECCA STRAND
HAS NEVER MET SHORT? TALL? RICH? POOR? PRETTY?
FUNNY? MARRIED? LONELY? HAPPY?...

Rebecca is about to find out. The New York City paralegal thought nothing could shake her life off its fast track -- which includes her handsome lawyer boyfriend and their extravagant condo. The shocking revelation that she even has a half sister comes from her dying father, in a hospital bed confession of a long-past summer affair...and now the dad she adores has one last wish: would Rebecca deliver a cache of letters he never sent to his other daughter, Joy Jayhawk, in a tiny coastal Maine town?

But when Rebecca arrives in Wiscasset, with the life-changing letters stashed in a leather box, nothing goes as she imagined -- and Joy Jayhawk is less than thrilled to meet her. Joy already has her own life, her own family, and her own business: she runs a bus tour for singles, a matchmaking excursion that's brought lovers together, healed broken hearts, and changed lives. Rebecca joins the singles tour in the hopes of unlocking a door into Joy's life and forming a relationship with the only family she has left. But as she spends more and more time with Joy and the women who dub themselves The Divorced Ladies Club of Wiscasset -- and starts a flirtation with a seriously hunky local carpenter -- Rebecca realizes it's her life and heart that are ready for healing and change...and that sometimes, you just have to go along for the ride.
Praise For The Secret of Joy…
"A warm hug of a book. Insightful, wise, and romantic, it's as inviting as the small-town life it depicts." -- CLAIRE LAZEBNIK, author of The Smart One and the Pretty One

"A special story by a special author. The Secret of Joy by Melissa Senate opened my heart, made me laugh, cry, and smile all at the same time. A don't-miss read!" -- New York Times bestselling author CARLY PHILLIPS
Gallery Books, 9781439107171, 352pp.
Publication Date: November 17, 2009
About the Author
Melissa Senate is the author of eight novels, including the bestselling See Jane Date, which was made into an ABC Family TV movie and has sold over 200,000 copies worldwide. She's published short pieces in Everything I've Always Wanted to Know About Being a Girl I Learned from Judy Blume, It's a Wonderful Lie, Flirting with Pride and Prejudice, and American Girls About Town. A former romance and young adult editor from New York, she now lives on the southern coast of Maine with her son.