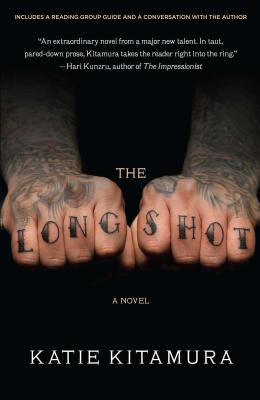 The Longshot
A Novel
Paperback

* Individual store prices may vary.
Other Editions of This Title:
Compact Disc (7/1/2012)
MP3 CD (8/11/2009)
Compact Disc (8/11/2009)
Description
Abrilliant, spare debut novel that follows a former mixed martial arts star and his longtime coach over the course of three fraught days as they prepare for his momentous comeback match.

Four years after Rivera knocked Cal from dominance, Cal's coach, Riley, has set up a rematch—it will be good for Cal, and he's ready for it. He's been training harder than ever, trying to shake the lethargy that's plagued him ever since he lost. Knowing he's going to face Rivera again, he gets his focus and energy back. He agrees with Riley: he's ready.

But Rivera has never lost a fight, and in the final days before the match, both Cal and Riley secretly begin to doubt that he can be beaten now. The stakes are high for them—not only do they have no idea what else they'll do with themselves besides MMA, they're also desperate not to let each other down.

In taut, rhythmic language, Katie Kitamura—a journalist who has followed MMA for years—renders the urgency, discipline, and mutual affection of athlete and coach with depth and subtlety. As an excruciating tension builds toward the final electrifying scene, their plight becomes our plight, the looming fight becomes every challenge each of us has ever taken on, however uncertain the outcome.

This striking debut upholds a tradition of literary writing about gritty subject matter that includes Denis Johnson and Norman Mailer and goes back through Dos Passos, Steinbeck, and Hemingway. Fans of literary fiction will be drawn to The Finish's stylized, sensitive portrait of two men striving to stay true to themselves and each other in the only way they know how.
Praise For The Longshot: A Novel…
"In her debut novel, The Longshot, Katie Kitamura delivers the reader into the exotic, bruising, and hypermasculine world of mixed martial arts with startling economy and even more startling insight...Kitamura excels at slicing and dicing to build tension. Hers is a dry-eyed viewpoint expressed through detail so sharp freeze-frames seem to turn kinetic. One lesson of The Longshot is you must fulfill your commitments, if only to find out what you're made of. Another is that Kitamura is a major talent." -- Boston Globe

"The Longshot takes the reader into the minds, hearts, and bodies of two highly dedicated and taciturn men. Kitamura's descriptions of mixed-martial-arts fighting are brutal yet beautiful....Her writing is spellbinding...in its power. Kitamura is a genuine discovery." -- Booklist, starred review

"If you're planning to get into the ring with the heavyweights of boxing lit (A.J. Liebling's The Sweet Science, Leonard Gardner's Fat City), you need a knockout hook. Katie Kitamura, in her debut novel, has one." -- Entertainment Weekly

"Katie Kitamura has produced a lean, taut little novel as authentic as any sport could hope to have represent it. The Longshot, her debut effort, reads the way we imagine the best fighters to be: quiet, measured, self-assured, always thinking ahead...[with] a fierce sense of elegance." -- The Daily Beast

"An extraordinary novel from a major new talent. In taut, pared-down prose, Kitamura takes the reader right into the ring." -- Hari Kunzru, author of The Impressionist

"This is a terrific debut: charged, intimate, raw. Here is an author who not only understands the alloying of muscle and mentality in sport, the elation and heartbreak of competition, and of life, but can also write about it all with compassion and beautiful austerity." -- Sarah Hall, author of The Electric Michelangelo

"Hemingway's returned to life -- and this time, he's a woman." -- Tom McCarthy, author of Remainder

"With refreshingly unadorned prose, Kitamura reduces to an intensely crystalline moment the tension surrounding a fighter and his coach as they prepare for a match. Kitamura's language sticks to the page with a delightful monocular clarity that invites readers to enter into the minds of these two men. The Longshot gives readers a rare glimpse into an intriguing world." -- Yannick Murphy, author of Signed, Mata Hari

"Back in the day, we'd have wondered how a woman -- a woman! -- could know so much about this brutally masculine world. The marvel today is that Katie Kitamura can write about it with such grace, compassion, and breezy confidence. She knows her way around the ring and the human heart." -- Elizabeth Benedict, author of The Practice of Deceit
Free Press, 9781439107522, 208pp.
Publication Date: August 11, 2009
About the Author
Katie Kitamura is based in New York. She has written for numerous publications, including The New York Times, Wired, and The Guardian, and is a regular contributor to Frieze.
Book Videos
A number of times over the course of the story, a certain question comes up: What went wrong in that fateful fight between Cal and Rivera four years ago? Discuss Cal and Riley's conflicting opinions on what actually happened. Who do you think is right?
Riley comments that in the beginning of Cal's career, Cal got so used to winning that he just thought it was "the way it was"(p. 16). How did that make losing to Rivera that much harder for him? Why has it taken him so long to get back into serious fighting?
What was the result of Murray and Rivera's fight? Do you think Cal would rather follow in Murray's footsteps than risk another defeat by Rivera? Why do you think he chooses to fight him again?
Cal and Riley each experience a fight-or-flight impulse during the twenty-four hours leading up to the fight. Why does each of them decide to stay? How do you think the novel would have turned out if one of them had fled? What would it have meant to the one who got left behind?
Discuss the dwindling of Riley's optimism over the course of the book. What makes him realize that Cal should not go into the fight? Why does Riley shut his eyes and say, "Things would have to play out. There was no other way" (p. 150)? In your opinion, was there, in fact, another way?
What is Riley's game plan for Cal's fight with Rivera? Why do trainers create a game plan, and why does he think it will work? Does the strategy actually come into play during the real fight?
Discuss this statement: "The kid had everything a fighter needed and if he didn't become champion then Riley would have no one to blame but himself" (p. 15). Why does Riley put so much pressure on himself to turn Cal into a champion? Do you think this blindly leads him into believing that Cal can win the rematch?
Even though he has never been knocked out, why do you think Cal "guessed he knew the feeling" (p. 23)? Why is it so important to Cal to remain standing in the final fight?
Having read Kitamura's work, do you agree with her statement that "there was nothing simple about a fight" (p. 27)? Did The Longshot change your perspective on the world of mixed martial arts fighting, on the people involved in it, and on the fighting itself? Why or why not?
Do you agree with Kitamura's assertion that "a fight was just a series of logical conclusions" (p.111)? If so, how do you feel about Cal's claim that habit overrides fear, logic and need (p. 139)?
Do you think Cal dies at the end of the book? Why or why not?
The Longshot could have been a much longer story. Why do you think Kitamura chose to keep it short in length and free of much description? How does this choice affect the story's impact? Does it make it more or less powerful? How so?