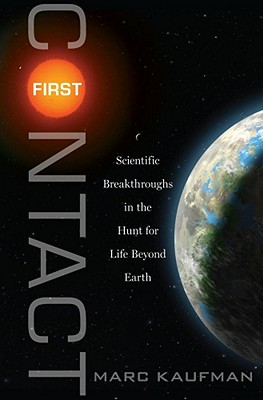 First Contact (Hardcover)
Scientific Breakthroughs in the Hunt for Life Beyond Earth
Simon & Schuster, 9781439109007, 224pp.
Publication Date: April 5, 2011
* Individual store prices may vary.
or
Not Currently Available for Direct Purchase
Description
Are we alone in the universe? Almost certainly not. In First Contact, Marc Kaufman provides a gripping tour of the magnificent new science of astrobiology that is closing in on the discovery of extraterrestrial life. In recent decades, scientists generally held that the genesis of life was unique to Earth: It was too delicate a process, and the conditions needed to support it too fragile, for it to exist anywhere else. But we are now on the verge of the biggest discovery since Copernicus and Galileo told us that Earth is not at the center of the universe. New scientific breakthroughs have revolutionized our assumptions about the building blocks of life and where it may be found. Scientists have hunted down and identified exoplanets, those mysterious balls in the universe that orbit distant suns not too different from our own. They have discovered extremophiles, the extraordinary microbes that thrive in environments of intense heat or cold that may mimic the inhospitable conditions of other planets. They have landed rovers on Mars and detected its methane, a possible signature of past life. And they have created sophisticated equipment to sweep the sky for distant radio signals and to explore the deep icebound lakes of Antarctica. Each of these developments has brought forth a new generation of out-of-the-box researchers, adventurers, and thinkers who are each part Carl Sagan, part Indiana Jones, part Watson and Crick--and part forensic specialists on CSI: Mars. In this masterful book, Kaufman takes us to the frontiers of astrobiology's quest for extraterrestrial life and shows how this quest is inextricably linked with the quest to understand life on Earth. He takes us deep under the glaciers of Antarctica, into the mouth of an Alaskan volcano, and beneath the Earth into the unbearable heat of a South African mine, and leads us to the world's driest desert. For thousands of years, humans have wondered about who and what might be living beyond the confines of our planet. First Contact transports us into the cosmos to bring those musings back to Earth and recast our humanity.
Praise For First Contact: Scientific Breakthroughs in the Hunt for Life Beyond Earth…
"An up-to-the-minute look at the frontiers of the search for life outside Earth… Kaufman provides an invaluable summary of the current state of research into extraterrestrial life. An excellent preview of what may be the next big scientific breakthrough."
—Kirkus Reviews (starred)



"Marc Kaufman traveled to the ends of the Earth to report this fascinating, awe-inspiring, and accessible book. Are we alone in the universe? Almost certainly not. Kaufman leaves the reader with a lucid sense of what we know and where the next wave of discovery will take place."
—Steve Coll, Pulitzer Prize-winning journalist and author of Ghost Wars



"In First Contact, journalist Marc Kaufman reveals how the extremes of life on Earth illuminate our search for life in the universe. Along the way, Kaufman invokes crisp, clear, and engaging narrative that, at times, leaves you to think you were conducting the research yourself."
—Neil deGrasse Tyson, Astrophysicist, American Museum of Natural History and author of The Pluto Files



"The search for life beyond Earth has now become the big scientific quest of our age. Kaufman skillfully weaves personal narrative and technical exposition to guide the reader through the challenges, both scientific and philosophical, that confront astrobiological researchers. An immensely readable book, infused with the thrill of the chase."
—Paul Davies, author of The Eerie Silence and The Goldilocks Enigma



"Writing with cinematic clarity, Marc Kaufman provides a masterful, gripping tour along the frontiers of the search for extraterrestrial life and shows how this quest is inextricably linked with the struggle to understand life on Earth. As he transports readers from the parboiled netherworld of a South African platinum mine to Earth's coldest, driest extremes, from an Alaskan volcano crackling with energy to microscopic Martian landscapes and ultimately to the ends of the cosmos, Kaufman brings into vivid focus the triumphs and frustrations of scientists as fascinating as the bizarre life forms they study."
—Kathy Sawyer, author of The Rock from Mars



"Marc Kaufman brings to life the broad and increasingly successful effort by scientists to find signs of life beyond Earth. It's an exciting read about a scientific venture that will no doubt surprise and intrigue many people—especially when he takes us to incredibly exotic locations. Space, it seems, is the next frontier not only for exploration, but quite likely for learning about life as well."
—Elon Musk, founder and CEO of SpaceX and Tesla Motors



"Marc Kaufman, a world-class reporter whose writing is clear and clean, is just the right author for First Contact. I found this book as thrilling as it is illuminating, as he takes us around the Earth and off into space in search of the beginnings of life here and probably elsewhere."
—David Maraniss, author of They Marched into Sunlight and When Pride Still Mattered



"Fascinating . . . While genuine alien life, in any form, has yet to reveal itself, Kaufman's tantalizing tour of the research that could achieve this breakthrough makes engrossing reading."
—Booklist




"With a child's curiosity and a reporter's skill, Kaufman delivers a concise, thorough, and utterly fascinating summary of the search for life elsewhere in the universe—and what it means for life on Earth. If you've ever wondered about life beyond Earth, let Marc Kaufman introduce you to the men and women who are searching for it. His explanations will make the night sky seem more vivid and the very life around you seem more improbable and precious."
—Susan West, former executive editor of Smithsonian



"The range of this new field of astrobiology is exhilarating, and even though scientists are still learning how to sort out the hard science from the understandably infectious enthusiasm, getting to ride along with Kaufman is an expansive joy." --The Washington Post
Coverage from NPR
Advertisement