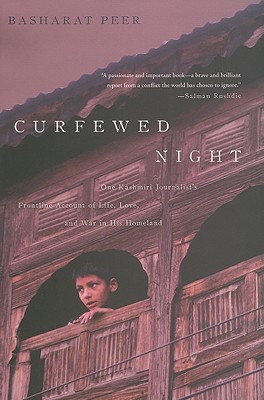 Curfewed Night: One Kashmiri Journalist's Frontline Account of Life, Love, and War in His Homeland (Hardcover)
One Kashmiri Journalist's Frontline Account of Life, Love, and War in His Homeland
Scribner Book Company, 9781439109106, 223pp.
Publication Date: February 2, 2010
* Individual store prices may vary.
or
Not Currently Available for Direct Purchase
Description
Since 1989, when the separatist movement exploded in Kashmir, more than 70,000 people have been killed in the battle between India and Pakistan over Kashmir. Born and raised in the war-torn region, Basharat Peer brings this little-known part of the world to life in haunting, vivid detail.. Peer reveals stories from his youth as well as gut-wrenching accounts of the many Kashmiris he met years later, as a reporter. He chronicles a young man's initiation into a Pakistani training camp; a mother who watches as her son is forced to hold an exploding bomb; a poet who finds religion when his entire family is killed. He writes about politicians living in refurbished torture chambers, idyllic villages rigged with landmines, and ancient Sufi shrines decimated in bomb blasts.. Curfewed Night is a tale of a man's love for his land, the pain of leaving home, and the joy of return--as well as a fiercely brave piece of literary reporting..
Praise For Curfewed Night: One Kashmiri Journalist's Frontline Account of Life, Love, and War in His Homeland…
"Describing the ruin of Kashmir, Curfewed Night doesn't only shock, it challenges our most cherished beliefs––in democracy, rule of law, and the power of individual conscience. Everyone should read it."
— Pankaj Mishra, author of Temptations of the West



"The story of Kashmir has never been told before so evocatively and profoundly. Peer writes with the skill of a novelist, the insight of a journalist and the evocative power of a poet."
— Ahmad Rashid, author of The Taliban and Descent



"A passionate and important book - a brave and brilliant report from a conflict the world has chosen to ignore."
— Salman Rushdie


Curfewed Night is the finest book I have read on the contemporary Kashmir conflict – literary, humane, clear-eyed and reliable. Basharat Peer has given voice, unforgettably, to a generation of Kashmiris who have never been heard in the United States, but who should be.
— Steve Coll, author of The Bin Ladens, Ghost Wars and On The Grand Trunk Road
Advertisement