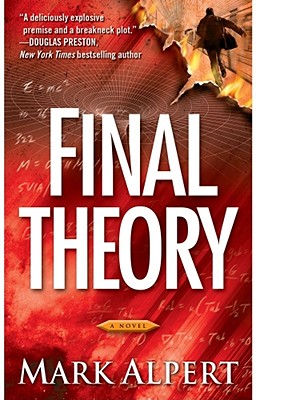 Final Theory (Paperback)
A Novel
Pocket Star, 9781439109410, 480pp.
Publication Date: July 28, 2009
* Individual store prices may vary.
Description

A Spellbinding Thriller about a Science History
Professor on the Run for his Life and an Unpublished Einstein
Theory that Could Change the World


Debut novelist Mark Alpert brings one of the most explosive books of 2008, seamlessly weaving current issues of science, history, and politics with white-knuckle chases.

David Swift, a professor at Columbia University, is called to the hospital to comfort his mentor, a physicist who's been brutally tortured. Before dying, the old man wheezes "Einheitliche Feldtheorie." The Theory of Everything. The Destroyer of Worlds. Could this be Einstein's proposed Unified Theory--a set of equations that combines the physics of galaxies with the laws of atoms? Einstein never succeeded in discovering it. Or did he? Within hours of hearing his mentor's last words, David is running for his life. The FBI and a ruthless mercenary are vying to get their hands on the long-hidden theory. Teaming up with his old girlfriend, a brilliant Princeton scientist, David frantically works out Einstein's final theory to reveal the staggering scope of its consequences.

With publishers around the world snapping up rights in twenty-two countries, the book has already become a global phenomenon, and the dynamic characters and gripping plot will keep readers compulsively turning the pages until the very end.
About the Author
Mark Alpert is a contributing editor at Scientific American and an internationally bestselling author of science thrillers. His novels for adults—Final Theory, The Omega Theory, Extinction, and The Furies—are action-packed page-turners that show the frightening potential of near-future technologies.
Praise For Final Theory: A Novel…
"Wow! Einstein would have loved this book. It's a great thriller, it has a sure feel for politics, and the science is both fun and solid. He always dreamed that he would discover a unified theory that explained all of nature's forces. Now this book makes the quest come alive." -- Walter Isaacson, New York Times bestselling author of Einstein

"Final Theory is a stupendous read! Real characters, real science, a deliciously explosive premise, and a breakneck plot combine to make this one of the finest science-based thrillers to appear in a long time. Final Theory rules. If I were Michael Crichton, I'd be packing my bags and heading for a quiet retirement in Tahiti..." -- Douglas Preston, New York Times bestselling author of Blasphemy

"A high-IQ doomsday thriller with clearly explicated and hauntingly beautiful scientific theories...[A] satisfying high-tech, high-stakes adventure." -- Booklist (starred)

"A pure potboiler...Well-plotted, well-written...You'll love it." -- Sharon Begley, Newsweek.com

"A physics-based version of the Da Vinci Code...The work of an expert with a pertinent skill". -- Janet Maslin, The New York Times

"Final Theory has everything I love in a novel: heart-pounding tension, astonishing plot twists, and fascinating science. Mark Alpert manages to make physics more thrilling than I ever imagined!" -- Tess Gerritsen, New York Times bestselling author of The Bone Garden

"An ingenious twist on Einstein's genius." -- Thomas Greanias, New York Times bestselling author of Raising Atlantis

"Alpert has a rare gift for combining cutting-edge science with an unrelenting pace and edge-of-the-seat action. An impressive debut." -- Kyle Mills, New York Times bestselling author of Rising Phoenix

"I have always been fascinated by the potential of science, the point where physics appears to defy its own laws and behave in uncertain ways. Thanks to this wonderful novel, I have reunited with an old passion and enjoyed a journey full of unexpected twists and drama." -- Javier Sierra, New York Times bestselling author of The Secret Supper

"The relentless action, including one giant twist and plenty of smaller ones, builds to a pulse-pounding conclusion." -- Publishers Weekly
or
Not Currently Available for Direct Purchase